Portland protesters barricade streets and declare new 'autonomous zone' outside mayor's residence (VIDEOS)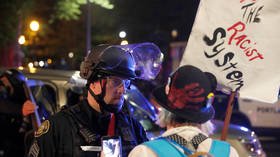 Anarchists, protesters and activists have taken to the streets of Portland once again, this time establishing an "autonomous zone" outside the mayor's home, after their demands were not met at a city hall meeting.
Portland City Council voted to cut $15 million from the Portland Police Bureau budget, eliminating some 107 full-time positions, though mostly via vacancies and retirements, according to local media reports.
However, the protesters – who'd gathered in their thousands across the city for the 20th consecutive night in solidarity with Black Lives Matter, calling for racial justice and police reform – were not appeased by the budget cuts. In response, they established at least one new self-rule area in the city – the Glisan Autonomous Zone, outside Portland Mayor Ted Wheeler's home.
A splinter group of about a hundred people assembled outside Mayor Wheeler's residence, flashing lasers and strobe lights through the windows and establishing dumpster barricades across the city streets.
Wednesday's action is the second time protesters have attempted to establish an autonomous zone in the city, after a failed effort last week.
There has been sporadic violence throughout the 20 nights of protest, and, in the early hours of Wednesday morning, a car plowed through a group marching downtown.
Three people were hospitalized with non-life threatening injuries, after 27-year-old Anthony Eaglehorse-Lassandro drove through a group of protesters near Southwest 3rd Avenue and Alder Street before speeding off in the wrong direction down several one-way roads.
Portland Police Department's air support team finally tracked him down, and he was arrested and subsequently charged with felony hit and run, reckless driving and possession of a controlled substance.
Also on rt.com
WATCH: Portland protesters abandon their own failed, police-free 'autonomous zone'
Think your friends would be interested? Share this story!
You can share this story on social media: