OBEY! NY Governor Cuomo's curfew billboard spawns dystopian memes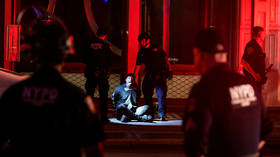 Governor Andrew Cuomo has taken over a billboard in New York City's Columbus Circle to give updates on the curfew. Its eerie aesthetic drew dystopian comparisons and fueled a lot of memes.
In addition to the curfew schedule, the billboard features a variety of changing text messages, which for whatever reason seem to be designed to look like the governor's tweets: "DO NOT BE A CRIMINAL," "LOOTING INSULTS GEORGE FLOYD'S MEMORY," "HELP ME RESTORE CALM."
The dystopian aesthetic has been widely panned on social media, prompting horrified reactions like "We are living in a dystopian nightmare. Please tell me this isn't real."
Internet personality Shoe-on-Head noticed that the billboard and the political situation around it seem like a real-life movie setting.
Online cinephiles tried to guess what movie it best resembled.
…or created memes based on it.
Someone even channeled Cuomo's recent comments about "displacing" NYC mayor Bill de Blasio:
Many New Yorkers were reminded of the Half-Life series of video games, sharing some deep cut gaming references.
One of the most popular posts sandwiched the real photos of the billboard in a Simpsons meme.
Like this story? Share it with a friend!
You can share this story on social media: