MASSIVE rallies block roads in Los Angeles as anti-police-brutality protesters demand justice for George Floyd (VIDEOS)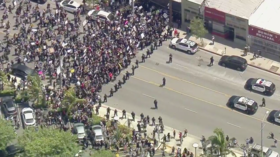 Huge crowds have hit the streets for the fourth consecutive day in Los Angeles after the death of George Floyd triggered massive anti-police-brutality rallies, which have escalated into riots across the US.
Aerial footage shows massive crowds on 3rd Street and Fairfax Avenue. The march has been peaceful so far, but police have deployed 'additional resources' to maintain order.
The protesters, many of whom are Black Lives Matter activists, are demanding justice for George Floyd, an unarmed black man who died in police custody earlier this week in Minneapolis, Minnesota.
Floyd's death has sparked riots and unrest in several major cities across the country. A total of 533 people were detained in Los Angeles alone on Friday.
The demonstrations take place amid quarantine restrictions imposed to combat the spread of Covid-19.
Think your friends would be interested? Share this story!