Crowds BESIEGE Minneapolis 5th Precinct as police & National Guard fail to enforce curfew (VIDEOS)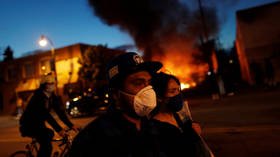 Protesters in Minneapolis have surrounded a police station amid ongoing unrest over the killing of George Floyd by law enforcement, as a curfew imposed by the city government goes unenforced and crowds refuse to disperse.
The demonstrators could be seen outside the Minneapolis Police Department's 5th precinct headquarters on Friday night in exclusive footage obtained by RT's Sophia Narwitz.
In the immediate area around the station, protesters gathered to chant anti-police slogans and voice outrage, while officers kept a low profile and largely stayed out of sight.
Looting has again kicked off across the city, with a group gathered near a convenience store near the 5th precinct attempting to breach the building. A pharmacy has also been ransacked, Narwitz reported.
While a massive police and National Guard presence was seen earlier on Friday, as day became night and the mayor's curfew took effect, security forces have largely vacated the streets.
Several officers were spotted on the roof of the 5th precinct building, however, mirroring a similar tactic adopted before the 3rd precinct headquarters fell on Thursday, with protesters storming the station and setting it ablaze as officers fled.
A fire has been set at a gas station near the police department, with reports of several other conflagrations across the city. While the Minneapolis Fire Department said it continues to respond to fires, they have not been seen anywhere near the protesters.
Also on rt.com
Minneapolis mayhem: Police & National Guard fall back as HUGE crowds defy curfew order (PHOTOS, VIDEOS)
Think your friends would be interested? Share this story!
You can share this story on social media: