WATCH: California power substation EXPLODES, releasing enormous fireball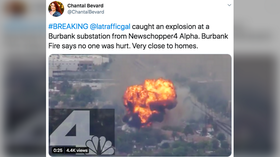 The city of Burbank in California was rocked by a huge blast on Friday, when a power substation exploded and emitted a huge ball of flames into the skies above.
Eyewitness footage captured the moment the stunning fireball bloomed over the site.
There were no immediate reports of injuries, and firefighters have brought the blaze under control. Local reports say the area nearby is suffering power outages.
Burbank police have reopened surrounding roads to traffic, which were previously closed while the Fire Department dealt with the blaze.
The cause of the explosion remains under investigation.
If you like this story, share it with a friend!
You can share this story on social media: