'It's a terrible day for Milwaukeeans': 6 dead after former employee goes on shooting rampage at Milwaukee brewery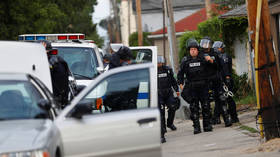 A freshly-sacked employee of the Miller Coors Brewing Company in Milwaukee, Wisconsin, went on a shooting spree inside the facility on Wednesday, killing five former colleagues before taking his own life.
The shooting unfolded near Building 4 at the MillerCoors headquarters on West Highland Boulevard.
The 51-year old gunman was a former MillerCoors employee fired earlier that day, Milwaukee Police Chief Afonso Morales confirmed in a press conference.
"It's a terrible day for Milwaukeeans," he said.
The attack prompted a massive law enforcement operation that saw emergency personnel, including dozens of police cars with sirens blaring , SWAT teams, armored vehicles and ambulances descending on the scene.
When located by the officers, the suspect was already dead from what police said was a self-inflicted gunshot wound.
Morales said that The Bureau of Alcohol, Tobacco, Firearms and Explosives (ATF) as well as FBI are involved in the investigation.
It was reported earlier that the man allegedly returned to the plant armed with a silencer-equipped handgun and opened fire on his former coworkers. The gunman may have accessed the plant using a stolen name tag.
MillerCoors confirmed the incident and said they had instructed employees to find a safe place to hide. Nearby schools were briefly placed on lockdown in the wake of the shooting.
MillerCoors' massive campus, called Miller Valley, spans the equivalent of several city blocks and includes warehouses, corporate offices, and the landmark "Miller Caves," as well as the production facility where the shooting occurred.
Making beer is a major part of Milwaukee's history - it's referred to as "Brew City" - and the shooting is likely to affect residents deeply.
Like this story? Share it with a friend!