Who's this guy? Jeopardy contestants fail to recognize impeachment 'hero' Adam Schiff & Twitter ROFLs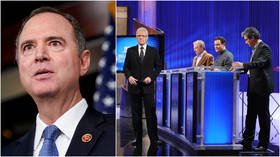 Rep. Adam Schiff might be leading an impeachment drive in the US, but it seems not everybody is familiar with the 'resistance' hero. At least, his photo did not ring any bells for contestants on the latest Jeopardy episode.
Schiff, a prominent Russiagater whose fame among the anti-Trump resistance camp reached new heights amid the ongoing Ukrainegate saga, might be a household name on Capitol Hill, but the question remains: Is the same true for the rest of the country outside of the Washington political swamp? If the classic trivia game show is any indication, it is not.
The episode that aired on Wednesday included Schiff among the answers in a category for "US Representatives," but when host Alex Trebek read out Schiff's title – House Intelligence Committee chairman – and his photo popped up on the screen, the contestants drew a blank, none even venturing a guess.
The reaction from US President Donald Trump's supporters on Twitter was swift and merciless.
Some cited the contenders' apparent ignorance about the Russiagater-in-chief as ultimate proof that the whole impeachment process has been "a sham."
Others simply noted that the highly politicized portion of the US public, stuck in interminable Twitter battles with the dreaded deplorables, is "living in a bubble" where impeachment overshadows all other issues.
Those sympathizing with Schiff's cause argued that Jeopardy episodes are typically recorded about three months in advance, meaning Wednesday's show was filmed when the Ukrainegate drama was still in its inception, just prior to the House's impeachment hearings.
Many insisted that this argument would not stand, however, since Schiff has been a leading voice in the impeachment narrative since soon after Trump's election more than three years ago.
Like this story? Share it with a friend!
You can share this story on social media: