Dracarys! Meghan McCain responds to The View showdown with a DRAGON GIF from 'Game of Thrones' – and causes another Twitterstorm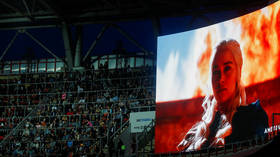 A new 'Game of Thrones'-style tweet from Meghan McCain somehow made her look even worse after her spat with The View co-host Whoopi Goldberg, where McCain was told to "please stop talking."
After being shut down on The View and told to "stop talking" by co-host Whoopi Goldberg, Meghan McCain took to Twitter to try and make up lost ground – and it didn't exactly go in her favor.
Also on rt.com
'Girl, stop talking right now': Whoopi shuts down interrupting Meghan McCain, internet celebrates (VIDEO)
McCain posted a picture of the character Daenerys Targaryen from 'Game of Thrones' and seemed to compare herself to the fictional queen from the recently ended HBO drama based on the books by George R. R. Martin.
"Good morning – to all the fellow conservative 'girls' who won't be quiet," McCain wrote on Twitter on Tuesday morning. It was accompanied by a clip from the show of Daenerys standing in front of one of her menacing dragon "children."
While hitching yourself to the massive popularity of 'Game of Thrones' may seem like a good idea for a modern-day pundit, McCain didn't exactly care to check out the story's plot.
Twitter users were quick to inform McCain that the character she so boldly compared herself to ended up being an authoritarian villain in the series, who slaughtered countless innocent people. She was also a character who got her position and support from her father's name. That similarity was another aspect people were quick to point out to the daughter of the late Senator John McCain.
"A+ tweet from Meghan McCain as Daenerys' claim to fame was also completely based on who her father was," one Twitter user wrote.
"Is the Dragon supposed to be your dad? Because they were the only thing that gave dany power so the metaphor fits,"said another. "Idk adam the dragon wasn't as much of a warmonger," was another response.
Considering the generally poor reception, other users told McCain she may have been better off taking Goldberg's original advice from Monday's The View.
Like this story? Share it with a friend!
You can share this story on social media: