One killed in 'workplace violence' shooting at Dart Container plant in Conyers, Georgia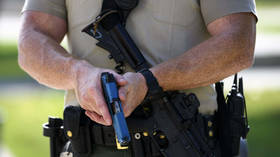 One employee was shot at a food service plant in Conyers, Georgia, and later died. Local schools were placed on lockdown while police hunted for a suspect, who was later caught in the neighboring state of Alabama.
A contract employee identified as Cameron Golden was arrested Friday afternoon and charged with murdering fellow employee Taurus Andrews.
Rockdale County Sheriff Eric Levett described the shooting as "workplace violence," but said that Golden's motives were still being investigated.
"We don't if Mr. Golden was upset with Dart Container, was he upset with any particular person there? We just don't know those answers as of yet," Levett told reporters on Friday evening.
Rockdale County Administrative Services and Courthouse are on LOCK DOWN until further Notice, due to incident reported at Dart Container Corp Facility on GA 138.Please be safe and stay on alert as the situation is investigated. https://t.co/HgUBqy4SFQ

— Rockdale County (@RockdaleGov) December 13, 2019
Gunfire broke out at the plant on Friday morning, after Golden entered the Dart Container Corp. facility at about 7am local time and shot an employee.
The victim, identified as Andrews, later passed away from his injuries at an area hospital.
Happening Now: A gunman went into the Dart Container Corporation on Highway 138 in Conyers and shot a man this morning. Rockdale County deputies are searching for the shooter. Three nearby schools are on lockdown. The adjacent QT gas station is closed for safety as well. pic.twitter.com/RPQhIFzNlM

— Hayley Mason (@HayleyMasonTV) December 13, 2019
Shortly after the incident, Levett said his deputies had identified a "person of interest" and were conducting a manhunt. Three local schools were locked down as a precaution.
Conyers is a suburb of Atlanta. Dart Container is the world's largest manufacturer of styrofoam cups and containers for the food industry.
Think your friends would be interested? Share this story!
You can share this story on social media: