Pamela Karlan, leave my son out of this – Melania Trump shames impeachment witness over attack on Barron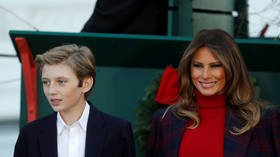 First Lady Melania Trump has weighed in on the impeachment hearings in a rare tweet, shaming a legal expert who invoked Barron Trump in her testimony for "pandering" and using a child to score political points.
Asked to compare President Trump's conduct to that of a monarch during Wednesday's impeachment hearing, Stanford law professor Pamela Karlan quipped that "the president can name his son Barron but not make him a baron," lighting up some corners of Twitter with both outrage and glee. The comment drew a far less common response, however, from the First Lady.
"A minor child deserves privacy and should be kept out of politics. Pamela Karlan, you should be ashamed of your very angry and obviously biased public pandering, and using a child to do it," she shot back.
Some commenters on social media flocked to defend the First Lady, commending her "momma bear" instincts and shredding Karlan's "shameful" remark.
Critics, however, were quick to note that the president himself has singled out teenage climate activist Greta Thunberg in public comments, insisting it was a case of the pot calling the kettle black.
Donald Trump Jr. also weighed in to defend his little brother, hitting "liberals" for double standards in who they consider "off limits."
While Karlan later extended an apology, many of her detractors remained unimpressed.
Like this story? Share it with a friend!
You can share this story on social media: