4 dead, 4 injured in shooting at Brooklyn gambling den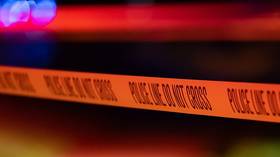 Four people were killed and four injured in a shooting in Brooklyn's Crown Heights neighborhood. The incident took place at a private club on Utica Avenue, that police believe was being run as an "illegal gambling location."
Gunfire broke out shortly before 7am on Saturday at the club, NYPD Chief Dermot Shea told a press conference. Four men aged between 32 and 49 were shot dead and three people, two men and a woman, were wounded. Aother victim suffered a leg injury while fleeing the scene.
The wounded were taken to nearby hospitals, and police recovered two firearms in the club. According to Shea, there were "a minimum" of 15 people present when the gunfire began.
Homicide detectives have not yet established a motive for the shooting, but have brought multiple individuals in for questioning.
Crown Heights has been plagued by a series of shootings in recent months, with two injured in a midnight attack last Sunday. A father of three, a 27 -year-old man and a 59-year-old clipped by a stray bullet were all among those shot last month, while an 11-year-old child was shot in the neighborhood earlier this summer.
Think your friends would be interested? Share this story!