Multiple fatalities, 1 in custody after Walmart shooting in El Paso, Texas (VIDEOS)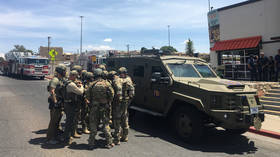 Dozens have been shot by a gunman at a Walmart in El Paso, Texas. At least 20 fatalities have been confirmed. One suspect is in custody.
One person has been placed in custody, EL Paso police confirmed, adding that the alleged attacker was apprehended without incident. A total of 20 people were killed in the shooting, and another 26 were injured.
Also on rt.com
20 confirmed killed in El Paso Walmart shooting rampage
Police have yet to formally identify the shooter, who has been named in mutlple media reports as Patrick Crusius of Dallas. Sgt Robert Gomez, a spokesman for the El Paso Police Department, described the suspect as a "white male in his 20s."
Several extremely graphic videos, purportedly taken at the scene, have emerged online. One shows at least three bodies lying outside the Walmart and in its parking lot. In another one, people are seen fleeing the store past a person lying on the floor in a large blood puddle.
Meanwhile a short clip of a man hiding under furniture while multiple shots are heard in the background has been making the rounds in the media.
The shooting at the Cielo Vista Mall area started around 11am local time on Saturday, and the scene remained "active" for more than an hour. Police said they received reports of multiple shooters, which later proved to be false.
Witnesses said a man armed with an AK-style rifle began shooting outside the Walmart and then went on a rampage inside the store. Stills from CCTV videos appear to confirm the type of weapon used.
Footage from the scene shows heavily armed officers and police helicopters deployed.
Meanwhile, reports have emerged about the shooter's alleged "manifesto". Scott Stedman, a journalist with ForensicNews.net, said he had received a 4-page document said to have originally been posted on the notorious image board 8chan. It allegedly calls the attack "a response to the Hispanic invasion of Texas" and claims to provide insight into the extreme-right views of the shooter. The FBI is investigating the document, according to Stedman.