Major power outage cripples Manhattan on anniversary of great NYC blackout of 1977 (VIDEOS)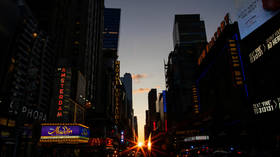 Parts of Manhattan have suffered a widespread blackout, which affected traffic lights, subway stations, businesses, and tourist attractions all across Midtown and Upper West Side.
As many as 60,000 households and businesses were left without power in New York around 7:00pm on Saturday as utility company Con Edison struggled with "extensive outages" from 5th Avenue to the Hudson River, and from the West 40s to 72nd Street.
It took more than five hours to restore power to the majority of customers.
When the city suddenly went dark, many people were trapped inside elevators across the city's high-rises for hours, with firefighters struggling to rescue them.
The giant monitors at Times Square also went pitch black, while Jennifer Lopez was forced to call off her concert at Madison Square Garden.
The blackout was caused by a transformer fire at West 64th Street and West End Avenue, which caused a power surge and knocked out five more ConEdison substations.
As nighttime fell, New York Governor Andrew Cuomo assured the public that the authorities were doing their best to maintain order and ensure safety.
"While fortunately, no injuries occurred as a result of this incident, the fact that it happened at all is unacceptable," Cuomo said. "Until the recovery is complete, we will continue to take all necessary actions to ensure the safety and security of New Yorkers."
Think your friends would be interested? Share this story!
You can share this story on social media: