Magnitude 6.4 quake hits southern California on Independence Day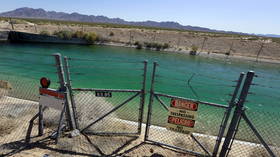 A strong earthquake shook Southern California, the largest to hit the region in a decade. First estimated at 6.6 magnitude, the quake has been downgraded to a 6.4, recorded near the city of Ridgecrest, near Los Angeles.
The quake was reportedly centered on the remote Searles Valley area in San Bernardino, and was felt from the Mexican border to the northern limits of Nevada, according to a reporter with the LA Times.
Two magnitude 4 aftershocks were also recorded in the area, according to the United States Geological Survey.
A local fire department said it was dealing with over two dozen incidents, ranging from requests for medical assistance to structure fires in and around Ridgecrest.
Local emergency response agencies have been overwhelmed with calls, prompting the Los Angeles Police Department to request that residents only call with genuine emergencies.
The earthquake is the largest to hit Southern California since the 7.1 magnitude Hector Mine quake in 1999, which caused little damage and only minor injuries, much like Thursday's tremor. The 1994 Northridge earthquake, which registered a 6.7 magnitude, was far more destructive, killing scores of people and causing billions of dollars in damage.
Located along a number of major fault lines, Southern California is historically prone to earthquakes.
Also on rt.com
'Deep creep' discovery near California's deadliest faults could explain mystery earthquakes
Subscribe to RT newsletter to get stories the mainstream media won't tell you.