Hope Hicks gets glam shots for subpoena 'dilemma,' but what about Manning and others?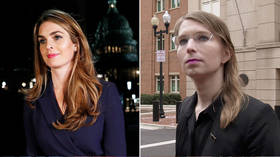 Accusations of bias against the New York Times usually come from President Trump and the right. This time the paper is being blasted for a fluffy portrayal of former White House aide Hope Hicks.
Hicks has been summoned to appear before the House Judiciary Committee in June, part of committee chairman Jerry Nadler's (D-New York) ongoing efforts to find evidence of obstruction of justice by President Donald Trump. Hicks has not commented on whether she will show up, after former White House counsel Don McGahn declined to appear last week.
The Times described Hicks' decision over whether to appear or not as an "existential question," and headed the article with a flattering portrait of a well made-up and studious-looking Hicks.
The paper was slammed for portraying a woman considering committing a crime in a positive light, while, one commentator argued, even "murdered innocent black kids don't get treated this nicely."
Socialist Congresswoman Alexandria Ocasio-Cortez (D-New York) weighed in. "What gets me is news breaks that this woman is weighing committing a crime before Congress & it's getting framed by the NYT as some Lifetime drama called 'Hope's Choice,'" she tweeted.
Amid the clamor, some commenters pointed out the difference in the Times' coverage of another woman refusing to provide testimony to the government: jailed whistleblower Chelsea Manning.
Manning, who has already spent seven years behind bars for handing over classified military and diplomatic files to WikiLeaks in 2010, was ordered back into jail earlier this month for refusing to testify in a grand jury probe of WikiLeaks founder Julian Assange. Manning had already refused one demand to testify in March, and stuck by her refusal two weeks ago, saying she would "rather starve" than give testimony against Assange.
"Oddly, the NYT didn't frame Chelsea Manning's refusal to testify against Assange in the same way," journalist Dan Gilmor said in response to the Hope Hicks story.
The New York Times' coverage of Manning's re-incarceration was straight and factual, and at no point went into Manning's personal struggle with cooperating. Instead of a "glam shot," the paper used a simple shot of Manning walking into the court in Virginia.
Subscribe to RT newsletter to get stories the mainstream media won't tell you.
You can share this story on social media: