Twitter suspends anti-Trump stars the Krassenstein brothers for fake accounts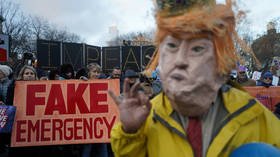 Twitter has suspended the Krassenstein brothers, two notoriously obsessed anti-Trump crusaders, for using fake accounts. Some conservatives, having seen their own side censored before, spoke up against the ban.
UPDATE: The article has been amended to include a clarification RT received from Ed Krassenstein.
Brian and Ed Krassenstein, the #Resistance heroes with a shady history of alleged investment fraud, were suspended from Twitter on Thursday for creating "fake and misleading accounts" and using "multiple accounts to manipulate Twitter conversations."
A new Twitter account purporting to belong to the brothers appeared shortly after their suspension, posting a screenshot of an alleged message from Twitter that said Ed Krassenstein's account was suspended for violating rules against "targeted harassment." That new account was itself suspended a short time later. In an email to RT, Ed Krassenstein has said the account did not belong to the brothers and the image it posted was fake.
The Krassensteins had been "operating multiple fake accounts and purchasing account interactions," according to a Twitter spokesperson quoted by the Daily Beast. "The Twitter Rules apply to everyone." The pair's politics – they were ubiquitous in #Resistance Twitter, so well-known for their hatred of Trump they were able to crowd-fund a children's book based on it – and their popularity (Ed had about 925,000 followers, while Brian had around 697,000) had placed them above the law in the past, according to their detractors.
Also on rt.com
President's favorite Twitter meme-lord suspended over video of Trump SHOOTING CNN's Jim Acosta
In an op-ed on their website, the brothers admitted to retaining multiple accounts, but denied that having ever broken Twitter guidelines, using the accounts for manipulation or buying and selling followers. The Krassensteins' maintain that, apart from their personal accounts @EdKrassen and @Krassenstein, they managed the @KrassenCast account for podcasts and operated @kstein2020 and @FrankKern20 to track hate speech by those who had blocked their main handles. They also admitted that "on a few other occasions," they used the additional accounts "as anonymous contacts for stories." As the ultimate argument, they say they "swear on our graves that this is 100% true."
The twins' mass-reporting of memesmith Carpe Donktum caused his temporary suspension earlier this month, but the satirist took the high road upon learning his tormenters were toast, pointing out that platform access should be a right for everyone – even "the Idiot Twins."
And Carpe wasn't the only one on the Right to call for the brothers' reinstatement.
Not everyone was so charitable.
And a few people admitted to reporting them.
With rumors about their suspensions swirling, the brothers released a statement denying they had "acquired anything for the purpose of increasing our Twitter presence."
Twitter has recently booted a number of popular conservative accounts from its platform, including a clearly-marked parody account of Alexandria Ocasio-Cortez, even after CEO Jack Dorsey admitted the platform had been "way too aggressive" in enforcing its terms of service against right-wing users.
Think your friends would be interested? Share this story!
You can share this story on social media: