Lindsey Graham supports 'overwhelming military response' to Iran 'threat streams'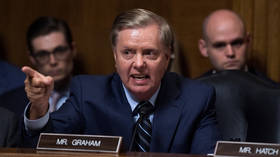 Republican Senator Lindsey Graham has blamed Iran for "escalating tensions" in the Persian Gulf, accusing the country of threatening the US even while promising massive retaliation in response to vague "threat streams."
"The fault lies with the Iranians, not the United States or any other nation," the belligerent South Carolina congressman tweeted on Monday. "If the Iranian threats against American personnel and interests are activated we must deliver an overwhelming military response."
Sealing his appeal to US President Donald Trump with a "Stand firm Mr. President" – the second such tweet in three days – Graham did his best to make the case for a potentially devastating war in 240 characters or less. "It is clear that over the last several weeks Iran has attacked pipelines and ships of other nations and created threat streams against American interests in Iraq," he tweeted.
Graham's latest tweets were apparently inspired by a briefing from National Security Advisor John Bolton, the Iran-obsessed warmonger once considered too hawkish for the Bush administration, on the "escalating tensions" in Iran. However, he has been tweeting similar calls to arms for several days, buttering up the president and encouraging him not to back down from his combative posturing.
The latest peak came when a rocket landed in an abandoned building inside Baghdad's Green Zone on Sunday, triggering a tweetstorm of apocalyptic rhetoric from President Trump – even in the absence of evidence linking the rocket to Iran. "If Iran wants to fight, that will be the official end of Iran," the president threatened in a tweet while admonishing Tehran never to "threaten the United States again." The rocket landed about half a kilometer from the US embassy compound and there were no casualties.
Graham's briefing with Bolton came after he complained last week that the administration wasn't telling Congress enough about the supposedly credible threats that had led Bolton to summon a carrier strike group, a bomber task force and a missile battery to the Persian Gulf over the past month. Administration officials are reportedly preparing to brief the rest of Congress on the Iranian "threat" as early as Tuesday.
Also on rt.com
Strait of Hormuz, Gulf of Tonkin? Trump warns Iran it will 'suffer greatly' if it does 'anything'
Graham has been Congress' top cheerleader for war ever since Sen. John McCain succumbed to a brain tumor last year, digging in against Trump's timid attempts to fulfill his campaign promises of ending US foreign wars.
Like this story? Share it with a friend!