Ominous message? US shows B-2 stealth bomber drop bunker busters amid Iran tensions (VIDEO)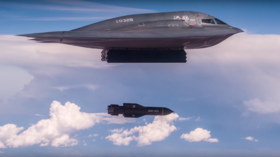 A blockbuster high-quality video showing a Northrop B-2 Spirit stealth bomber dropping massive, precision-guided 'bunker buster' bombs was shared online by the US Air Force even as US rallies its forces in the Persian Gulf.
The American heavy strategic bomber is pictured flying in an undisclosed location before slow-motion footage shows the release of projectiles. The bunker buster bombs are then seen exploding over a mountainous location from a number of angles.
"B-2 dropping two GBU-57, Massive Ordnance Penetrators (MOP). Each weapon weighs 30,000 lbs, with pinpoint accuracy, and holds deeply buried targets at risk," Whiteman Air Force Base said in a tweet sharing the video taken by a USAF stealth bomber pilot.

The video itself is not new. It was first released by the Whiteman Air base late in 2018 and subsequently used by the US Strategic Command to send a very disturbing New Year message. The Command's approach to festive "fireworks" faced a massive backlash online and the military took the video down, stating that such a New Year message "does not reflect our values."
The timing of the resurfaced B-2 footage may be of some significance. It came as the US musters its forces in the Persian Gulf amid a tense standoff with Iran. The troubling development was dubbed "psychological warfare" by the Islamic Republic, which vowed to protect its sovereignty by any means necessary.
Also on rt.com
American B-52s fly first mission over Persian Gulf to 'send message' to Iran (PHOTO, VIDEO)
With Washington still failing to support its belief that Tehran was preparing to "conduct offensive operations against US forces and our interests" with any solid evidence, Donald Trump on Friday denounced speculations of US preparation for war as "fake news."
With all of the Fake and Made Up News out there, Iran can have no idea what is actually going on!

— Donald J. Trump (@realDonaldTrump) May 17, 2019
If you like this story, share it with a friend!
You can share this story on social media: