Apologize for what? Bernie Sanders stands by opposition to Vietnam & Iraq wars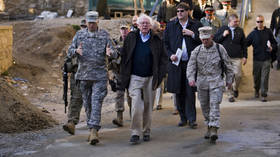 Senator and presidential hopeful Bernie Sanders says he will not apologize for opposing US wars in Vietnam and Iraq, after coming under mainstream media criticism for 'anti-American' sentiment. His supporters say 'good for him.'
Sanders is seeking the Democratic party nomination in 2020, and is up against a crowded primary field. Having rebuffed a New York Times reporter who asked last week about "anti-American chants" at a protest Sanders attended against US meddling in Nicaragua, the senator appeared on NBC's Meet the Press on Sunday and repeated that he will not apologize for being anti-war.
"I will do everything I can to see problems solved diplomatically instead of through war," said Sanders.
The effort to frame Sanders as somehow unpatriotic for supporting the interventionist wars of choice quickly backfired, as the overwhelming majority of responses to both the Times and NBC were along the lines of "good" and "he has nothing to apologize for."
"Anyone who thinks the Vietnam War was a good thing needs to have their heads examined," was another sentiment common among Sanders supporters.
One Newsweek journalist tried to argue that Sanders "doesn't seem so far different from Trump" on the subject of Vietnam, only to get buried in a flurry of furious responses, dominated by criticism of US wars abroad dominated.
Sanders was a conscientious objector during Vietnam, and voted against the 2003 invasion of Iraq. He did support the 1999 bombing of Yugoslavia on "humanitarian" grounds, but then so did most of his fellow Democrats.
Think your friends would be interested? Share this story!
You can share this story on social media: