'Enemies of freedom'? Germany launches anti-rightwing crusade amid Austrian govt crisis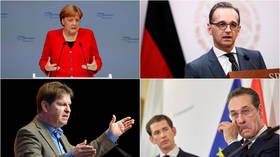 German politicians, including Chancellor Angela Merkel, have rushed to take advantage of the government crisis in neighboring Austria for their own political goals, uniting in a crusade against right-wing forces.
As Austria reels from a scandal involving Vice Chancellor Heinz-Christian Strache, which has put the nation on the brink of snap elections, in Germany, politicians and officials of almost all political backgrounds seized the opportunity to demonize 'right-wing populists' … and teach their neighbors how they should do politics.
"Europe is a union of countries that have decided to cooperate on a basis of common values," Merkel told journalists in the Croatian capital, Zagreb, answering a question about the situation in Austria. "We are dealing with movements, populist movements that despise those values in many aspects and seek to destroy the Europe of our values, so we have to oppose them."
A video showing Strache and his close aide discussing potentially illegal quid pro quo arrangements with a 'Russian business woman' is being presented as conclusive 'proof' that the right-wingers are not to be trusted, by German political elites who have been struggling with a surge of right-wing sentiment among the population. In light of the upcoming European Parliament elections, they apparently decided that an Austrian crisis centered on a right-wing party that made it into the ruling coalition two years earlier was a good excuse to remind their voters – and the rest of Europe – what true European values really are and who their enemies are.
Also on rt.com
Austrian VC caught discussing alleged shady deals, and pundits cry 'Russia took over the country'
German Foreign Minister Heiko Maas was blunt in his assessment, calling the right-wing "enemies of freedom." His colleagues from the Social Democratic Party (SPD), which is suffering from historically low levels of support according to recent polls, promptly followed suit with unsolicited advice to Austria's chancellor.
"Sebastian Kurz has no other option but to put an end to this government immediately and apologize for entrusting responsibility to the splitters and provocateurs like Strache," SPD Secretary General Lars Klingbeil tweeted. The Social Democrats' deputy head, Ralf Stegner, said the scandalous video "showed the stupidity and depravity of the right-wing radicals for everyone to see: corrupt, undemocratic, dangerous."
Also on rt.com
'Political assassination': Austrian Vice Chancellor Strache resigns after leaked video scandal
German Green Party leader Robert Habeck said it is "time to draw a line," while fellow party member Annalena Baerbock told Welt am Sonntag weekly that "this outrageous scandal shows that right-wing populists despise our values such as press freedom… and work systematically to erode democracy."
The co-chair of the German Left party, Bernd Riexinger, also took a jab at Strache's Freedom Party, saying the political force that used to portray itself as the defender of ordinary people turned out to be the party of "the rich, corrupt and brazen."
The only German party that did not express anger over the political scandal in Austria was the right-wing Alternative for Germany (AfD). "The FPO is a close partner of ours," AfD co-chair Joerg Meuthen said, adding that he would not "stab" his allies in the back over an "isolated issue."
Also on rt.com
'As soon as possible': Austria's Kurz on snap elections following leaked video scandal
The scandal sparked by the leaked video, which was first published by two German news outlets, prompted Strache to resign from the post of vice chancellor and as FPO head. He called the leak "political assassination." Amid public outcry which saw thousands of people staging a spontaneous protest in Vienna, Chancellor Sebastian Kurz announced snap elections. Austrian President Alexander Van der Bellen called it "the only way to restore trust in public institutions."
Subscribe to RT newsletter to get stories the mainstream media won't tell you.
You can share this story on social media: