'Coordinated anti-Trump campaign' on Instagram found by data analytics firm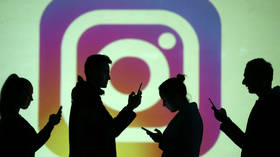 Italian researchers have uncovered what they called a "coordinated social media operation"on Instagram intended to undermine US President Donald Trump, with many identical posts using hashtags like #ihatetrump and #ImpeachTrump.
Ghost Data, an Italian analytics firm, said the US president has been targeted by fake profiles created specifically to spread extreme and sometimes even violent anti-Trump messaging in an organized and coordinated way.
Their study identified a network of 350 anti-Trump Instagram accounts, which used graphic language to criticize the US president and found that 19 accounts led the way in promoting the content. Some of the postings could "easily" be regarded as "hate speech," the study said.
What the team uncovered was a "small operation" that is "very likely part of something bigger," the head of research at Ghost Data, Andrea Stroppa, told Reuters.
Also on rt.com
Trump accuses social media giants of censorship, says 'millions' being silenced
The posts generated from the operation garnered more than 35.2 million interactions, with 3.9 million of them happening within the last two months when the campaign "swelled dramatically," the researchers said. Interactions for the top 19 accounts are "growing exponentially," generating nearly 70,000 likes and comments in just the first 10 days of May.
The accounts posted "similar or identical content" and many of the messages were published just a few minutes apart, the study noted. More tellingly, the accounts were all "activated and turned off" on the same day.
Also on rt.com
Facebook deletes more 'inauthentic' accounts – but stops short of blaming Russia
Instagram, which is owned by Facebook, told Reuters it is "investigating the accounts in question" and has "already removed" some that were found to violate the platform's policies.
The researchers acknowledged that it can be difficult to differentiate between "clickbait strategies and sincere political outrage," but even so, the accounts in question are directly linked to each other and operate in a coordinated way to spread the anti-Trump memes and messages.
Stroppa said there were about 52,000 accounts on Instagram that could generally be described as anti-Trump, but many of them were genuine accounts that mixed political and personal messaging. The accounts flagged as part of the campaign, however, focused almost exclusively on criticizing the president.
Also on rt.com
The only 'Russian bots' to meddle in US elections belonged to Democrat-linked 'experts'
He said there was no evidence of Russian interference in the anti-Trump campaign, but that those responsible were using "some of the same methods" that were previously used to target Hillary Clinton – by Russia, according to Democrats.
Facebook has been working to remove what it calls "coordinated inauthentic behavior" off its platforms in recent months, since concerns about "fake news" and troll and bot campaigns on social media took center stage after the 2016 US presidential election.
Like this story? Share it with a friend!