'Green' Beto O'Rourke joins the swamp, hires fossil fuel and private prisons lobbyist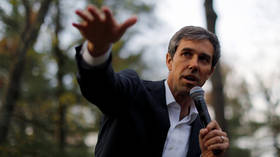 Beto O'Rourke's hiring of a former oil industry lobbyist is a puzzling move for a Democrat who touts his green credentials. But such contradictions are par for the course in the Washington DC swamp.
Although his policy positions are often fluid and unclear, Beto O'Rourke has worked hard to present his campaign as a grassroots movement of the people. The failed Texas Senate candidate has embraced a range of feel-good positions, promising to "take down" the wall along the Mexican border in El Paso, unveiling a $5 trillion plan to combat climate change, and earlier this month promising to reject donations from the fossil fuel industry.
O'Rourke's hiring last week of veteran lobbyist Jeff Berman, however, is at odds with his professed integrity.
A bona-fide swamp creature, Berman lobbied for private prison company GEO Group, Keystone XL pipeline firm TransCanada, and SeaWorld, the aquarium giant that has become a byword for animal cruelty, when he worked for law and lobbying firm Bryan Cave from 2009 to 2011.
Hailing from the Border town of El Paso, Texas, O'Rourke has made opposition to President Donald Trump's hardline immigration policies one of his main standpoints, describing the detention centers illegal immigrants are housed in as institutions of "terror." Yet during the Obama years, Berman lobbied on behalf of the GEO Group, which operates 12 Immigration and Customs Enforcement (ICE) facilities in the US, including the notorious Karnes County Detention Center in Texas, where staff were accused of sexually assaulting female detainees in 2014, and this month of denying migrants of their rights to access lawyers.
Also on rt.com
Biden caught in immigration hypocrisy after rediscovered clip shows him demanding border fence
To the O'Rourke campaign, Berman's expertise is in 'delegate strategy', the labyrinthine process by which a final candidate is selected by the Democratic National Committee. The veteran lobbyist's delegate game is credited for securing Barack Obama's nomination in 2008, and helping Hillary Clinton get the tip in 2016.
Described by Politico as the "unsung hero" of the Obama primary campaign, Berman would push for approval for the Keystone XL pipeline, a project still fiercely protested by Native Americans and environmental activists to this day.
The Obama administration would also expand the network of ICE facilities in border states, and increase the government spending on incarcerating immigrants from $591 million in 2005 to over $1 billion in 2011. The GEO Group meanwhile saw its annual revenue from federal contracts jump more than 300 percent during these years.
Good old Washington tradition
Companies, foreign leaders, and interest groups pay lobbying firms handsomely for access to the White House. A lobbyist who worked on a political campaign, especially one as instrumental to the president's victory as Berman was in 2008, is understandably thought to have the president's ear, and can command a high price for their services.
Also on rt.com
Foreign Affairs Committee chair cited Saudi talking points in Yemen debate, now he lobbies for them
This strategy of electing and then lobbying the president was pioneered by infamous lobbying agency Black, Manafort, and Stone (former Trump campaign manager Paul Manafort and former Trump adviser Roger Stone's operation) in the 1980s. Black, Manafort and Stone helped elect Ronald Reagan and George HW Bush, then lobbied Congress on behalf of dictators Mohamed Siad Barre of Somalia, Ferdinand Marcos of the Philippines, and Mobuto Sese Seko of Zaire, earning the agency the nickname "The Torturer's Lobby."
Manafort and Stone's names are often spat out with distaste, and the activities of Black, Manafort and Stone are seen as a nadir in Washington politics, and the beginning of a destructive trend.
Yet the O'Rourke campaign's decision to cosy up with Berman generated only a few headlines, and little outrage. Buzzfeed's write-up completely neglected to mention his lobbying career, as did Politico's. Only the Intercept did a deep dive into Berman's storied career in the swamp.
A bipartisan game
What if the shoe were on the other foot? Would O'Rourke be eviscerated by the media if he were a Republican?
Most likely yes. President Trump has drawn a firestorm of criticism for appointing lobbyists to key positions, despite running his campaign on a pledge to "drain the swamp" of cronyism and corruption. Since taking office, Trump appointed coal industry lobbyist Andrew Wheeler as administrator of the Environmental Protection Agency last July, and just last month the Senate voted to confirm energy lobbyist David Bernhardt as secretary of the interior.
Bernhardt was confirmed in the face of stiff Democrat opposition, and became the subject of an ethics investigation four days after his confirmation. The investigation was opened following requests from Democratic lawmakers and activists, who accused Berman of using his previous position as deputy secretary of the interior to further the interests of his old fossil fuel lobbying buddies.
The appointments of Wheeler and Berman generated hundreds of headlines. "Remember when Trump promised to drain the swamp, not restock it?" read a Los Angeles Times op-ed last month. Outside Magazine even published a handy "David Bernhardt Scandal Tracker."
However, whether hidden behind the scenes or conducted in full view of the public, the relationship between lobbyists and politicians transcends partisan divisions, and is one of the few issues that both parties seem to see completely eye-to-eye on.
O'Rourke, for his part, hired Berman at a make-or-break time for his campaign. While the 'progressive' Texan was hovering around double digits in the polls after he announced his candidacy in March, his early energy has flagged. A new Monmouth University poll put former Vice President Joe Biden out in front at 36 percent, followed by progressive icon Bernie Sanders at 18 percent. O'Rourke trails at a mere two percent, tied for sixth place.
O'Rourke plans on "re-launching" his campaign in the coming days, an unnamed adviser told the Associated Press on Sunday. And this is a moment when an alliance with the swamp may be very handy.
Think your friends would be interested? Share this story!