NBC Law & Order episode slammed for Covington teen & Ilhan Omar similarities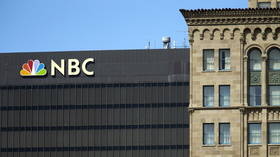 NBC is facing backlash for an episode of Law & Order SVU featuring characters that resemble the Covington teenager and Rep. Ilhan Omar. The show aired days after the real teen sued the network for $275 million.
The episode aired on Thursday featured a teenager wearing a red cap that resembled Covington high school student Nicholas Sandmann, who was accused of starting an abusive argument with an older Native American, Nathan Phillips, in Washington DC in January.
Also on rt.com
WaPo issues correction to Covington kids story – 6 weeks & 1 lawsuit later
Sandmann is suing NBC for $275 million for defamation over its reporting on the misleading viral video. He has also filed suits against the Washington Post and CNN.
The SVU episode featured a boy named Ari who is part of a gang of angry Jewish students who accuse fictional Muslim councilwoman Nahla Nassar of anti-Semitism. The scene looks very similar to the Sandmann video, down to the red baseball cap.
@IngrahamAngle is it just me or does this picture look like Covington Kid Nick Sandmann. This was a preview of tonights NBC's "SVU" and instead of an American Indian it has a Muslim women. #coincidence? pic.twitter.com/dYaj6YQzC4

— Dwayne Cannon (@deebs01) May 9, 2019
That is a wildly irresponsible SVU episode. Ripped from the headlines is one thing when you're talking about individual crime stories, but you can't just appropriate public figures, build barely disguised versions of them, and make them bigoted liars. Who thought this was OK?

— Linda Holmes (@lindaholmes) May 10, 2019
In the show, two of the boys are then accused of raping the politician, even though it emerges that she was attacked by her husband. It is also revealed that the earlier scene showing the boys shouting at the councilwoman isn't as it first seems, as Nassar was the one to provoke the boys.
Nassar says "It's all about the Benjamins" during the episode, which is what Minnesota Rep. Omar tweeted while commenting on Israeli influence in US politics in February, sparking accusations of anti-Semitism.
Also on rt.com
'All about the Benjamins': Ilhan Omar sparks Twitter backlash over 'anti-Semitic' post
Critics and social media users were quick to point out the glaring similarities between the episode and real-life people and events. A number of people took issue with the unflattering way the Omar-like character was portrayed, while others felt the episode was an example of NBC's liberal bias.
Here we go again....Law and Order SVU S20E23 (Assumptions) is what a mainstream media crossover of The Covington Kids and Jussie Smollett hoax will look like.... An extended story line oozing with overt leftist bias

— Oladapo Ekundayo (@ekundapsy) May 10, 2019
Law and order has always been an extension of nbc brainwashing. Evil.

— Dodgerjohn (@Dodgerjohn1) May 10, 2019
I can't figure out if this is ripped from the headlines of the Covington School boys or Jussie Smollett. Seems a combination of the two. #SVU

— Geaux Girl ❌ (@777GeauxJen) May 10, 2019
I hope Law and Order gets sued for this episode. They just used the same language Ilhan Omar used and are now defaming the fictional character who now obviously represents Ilhan Omar. Fucking disgusting production from the team. #SVU

— MORSECDE (@MORSECDE1) May 10, 2019
I've quit watching any of the traditional major networks for precisely this reason...The Leftist messaging has become way too obvious in recent years!

— jayztwit1 (@Jayztwit2) May 10, 2019
Like this story? Share it with a friend!
You can share this story on social media: