'Rich in depression': Lee Camp contrasts stock market boom with underpaid US workers (VIDEO)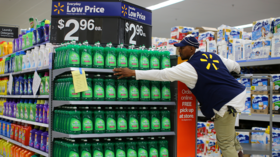 Many American workers struggle to make ends meet – but are apparently rich in sadness, Lee Camp has noted, pointing to data that shows how recent surges in the stock market mostly benefit the country's rich.
American workers' ranking dropped for the third year in a row in the World Happiness Report, the host of Redacted Tonight relayed to his audience, adding that this news is hardly surprising given that one-third of Americans have "side hustles" to help pay the bills.
To make matters worse, another report found that the top 10 percent of wealthy Americans own 84 percent of stocks – making recent gains in the stock market inconsequential to a huge swath of the country. But at least American workers are "rich in depression," Camp joked.
"Luckily, even if you're unhappy in your job, many Americans have three jobs – that triples their chances of being happy in one of them."
Watch the full episode below.
Like this story? Share it with a friend!
You can share this story on social media: