Facebook responds to breakup call, demands government regulation of Internet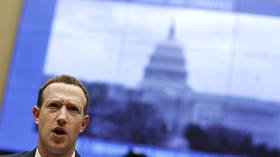 In response to a recent op-ed by a Facebook co-founder calling for the company's breakup, the social media giant has come out with a counter-offer: why doesn't the government regulate the internet?
"Facebook accepts that with success comes accountability," Nick Clegg, the company's head of global affairs, said in a statement to media, adding that "you don't enforce accountability by calling for the break up of a successful American company."
Clegg then suggested the "introduction of new rules for the internet," adding that it's "exactly" what CEO Mark Zuckerberg has been asking for.
Also on rt.com
Facebook co-founder says it's 'time to break up' the social media giant in scathing op-ed
In a March op-ed in the Washington Post, Zuckerberg had requested stricter regulations on "harmful content, election integrity, privacy and data portability" on the web.

"I believe we need a more active role for governments and regulators," wrote Zuckerberg.
Thursday's response from Menlo Park comes in the wake of a New York Times op-ed by Chris Hughes, Facebook's co-founder who left the company a decade ago. The scathing article laid into Facebook for monopolistic practices and suggested Zuckerberg held too much power.
Facebook has become something of a political football in recent years, with Democrats accusing the platform of hosting 'Russian bots' and 'trolls' during the 2016 election, as well as allowing big data firm Cambridge Analytica to access the information of millions of users.
Last year Zuckerberg was hauled before a Congressional inquiry and interrogated for hours about Facebook and the ability of 'foreign actors' to reach Americans. At the hearing Zuckerberg agreed, in concept, to greater regulation of his platform and the web as a whole.
Like this story? Share it with a friend!
You can share this story on social media: