Lockheed Martin slashes price of F-35 as Pentagon eyes competitors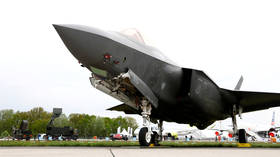 Defense giant Lockheed Martin has offered to discount its F-35 jet fighter by over 10 percent, as the US Air Force weighs an offer from Boeing. The stealth fighter project has been plagued by reliability issues and cost overruns.
Lockheed is offering to sell 100 F-35As – the cheapest variant of the jet – to the Department of Defense for under $80 million each, according to a report from Defense One. The variant previously came with a price tag of $89.5 million, under a deal inked last September.
The discounted jets would be shipped to the Air Force, while Lockheed would also provide two other lots of the more expensive F-35Bs for the Marine Corps and F-35Cs for the Navy, and an assortment of variants for allied forces.
Also on rt.com
Russia ready to replace American F-35s with own Su-57s if Ankara's deal with US fails
The price cut comes as the Air Force mulls purchasing Boeing's upgraded F-15 Eagle fighters in a bid to replace its existing but aging fleet of F-15s. Pentagon budget documents revealed this plan in March. Although an upgraded Cold War-era airframe, the F-15 is slightly cheaper than the next-generation F-35.
Lockheed, however, has pitched the F-35 as a more cost-efficient solution, given the recent price drop.
"This represents equal or less than the procurement cost of legacy jets, while providing a generational leap in capability," a spokesman told Defense One.
'Cost efficient' is not a term commonly applied to the F-35. Since Lockheed won the contract almost 20 years ago, the F-35 has become the most expensive military program ever, with the total price tag expected to hit $1.5 trillion by 2070, the projected end of its service life. Cost overruns and delays have plagued the program, which was already $163 billion over budget and seven years behind schedule by 2014.
Also on rt.com
US Air Force deploys F-35As on their FIRST combat mission (PHOTOS)
Although the USAF deployed F-35s on their first combat mission earlier this month, reports of technical and safety flaws have repeatedly surfaced. A 2018 Government Accountability Office report revealed more than 960 "open deficiencies" that needed to be resolved, while a separate Pentagon report published in February found more issues with the plane, including problems with its gun and a shorter than projected operational lifespan.
A Japanese F-35A crashed into the Pacific Ocean during a training exercise last month. The defense ministry in Tokyo later revealed that five F-35s of the Japan Air Self-Defense Force have had to make emergency landings in the two years before the crash, and that the jet had been bugged with cooling and navigation issues.
Think your friends would be interested? Share this story!
You can share this story on social media: