Japan's crashed F-35 had navigation & cooling faults, whole fleet forced into 7 emergency landings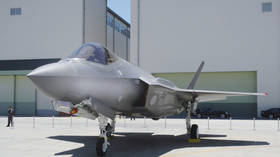 Japan's fleet of highly sophisticated F-35A jets has been plagued by problems in the last two years, resulting in at least seven emergency landings – including two by the unit that crashed in the Pacific Ocean earlier this month.
Air Self-Defense Force (JASDF) had a fleet of thirteen F-35As, before one of the fifth-generation stealth fighters disappeared off radars and crashed off northern Japan on April 9. But the ill-fated jet had issues with its cooling and navigation systems even prior to the crash, Japan's Ministry of Defense revealed this week.
Two emergency landings were due to faults recorded in the recently crashed jet.
Five of the jets in the fleet were forced to make seven emergency landings between June 2017 and January 2019. Four of the planes that experienced problems had been assembled by Mitsubishi Heavy Industries, Ltd under a partnership with Lockheed Martin. The other jet was made in the US.
Also on rt.com
Japanese military confirms F-35 crash & discovery of wreckage
"Unplanned returns to base were made after the planes reported issues with systems relating to fuel, hydraulics and other parts," Japanese daily Mainichi quoted the Defense Minister Takeshi Iwaya as saying. "Excluding one case of an error by the aircraft's monitoring systems, the remaining six saw the fighters inspected and parts replaced before they were confirmed safe."
Japan has grounded the rest of its F-35A jets following the crash earlier this month and has embarked on a hectic search to recover the wreckage, believed to be lying on the ocean floor, to preserve its "highly classified" technical secrets. In the meantime, Japanese authorities pledged to "thoroughly" investigate the causes of the crash, hoping for cooperation from the American side.
Also on rt.com
Exorbitant cost, multiple failures, years overdue: A recap of the ongoing F-35 calamity (VIDEO)
If you like this story, share it with a friend!