Indian schools prevent child vaccinations because of anti-vaccine rumors spreading on social media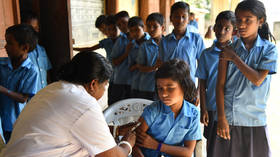 The UN vaccination campaign in India has been met with fierce resistance as parents and even some schools opposed the idea of vaccinating children. The health officials believe rumors circulating on social media are to blame.
Thousands of children in India have missed out on the necessary immunization, the United Nations Children's Fund (UNICEF) said. In the Indian capital of New Delhi, the UN-backed campaign to vaccinate students as schools was met with opposition by parents, who were scared of potential adverse effects of inoculation.
Dozens of schools in the western Indian city of Mumbai refused to allow health officials to carry out vaccinations against measles and rubella over the recent months, according to the Wall Street Journal. Such a reaction could seem surprising in the light of the fact that it is India where about one third of all deaths from measles in the world were registered in early 2010s, according to the World Health Organization.
"Every one in three children, who contract measles, lives in India. In 2017, we had 12,000 cases of measles," Gagan Gupta, a UNICEF Health Specialist, told RT.
The likely culprit behind the recent surge of anti-vaccination sentiments in India is the rapid spread of misleading information and anti-vaccination propaganda through the social media, which gripped the nation following a boom in the internet usage that took place over the recent years.
Also on rt.com
New York county bars unvaccinated minors from public places amid measles outbreak
WhatsApp – a popular messaging application owned by Facebook – is seen as a primary source of the rumors that arouse fear of vaccination in the Indians. The posts and videos published by the anti-vaxxers in the West are shared on the Indian social networks, according to the WSJ.
"We saw … false news circulating on WhatsApp," Gupta said, adding that the UNICEF specialists repeatedly faced this problem in various parts of India during their vaccination campaign. "Over the last three to four years, a new phenomenon has emerged, which is the use of the social media … to spread rumors regarding vaccines, which ultimately lead to vaccine hesitancy."
Lack of awareness
One of the key underlying causes of such a surge of anti-vaccination sentiments in India is the fact that people do not have enough relevant information on the issue while the rapid spread of internet technologies does not really help to tackle this problem.

"The lack of awareness is the biggest problem. Sometimes people do not know, how the vaccines work; how safe they are," Gupta said.
Aman Gupta, a public health expert, who worked in the field related to vaccines for 15 years, believes that many people just find it difficult to process large amounts of new information that they receive through the net.
"As we know bad news travels faster than the good news. In today's world, every person is bombarded by information from any channels. People hear a lot of things and do not know whom to trust," he told RT.
Also on rt.com
'I will never get over feeling I killed my son': Anti-vaccination activists refuse to be 'silenced'
People who have even a vestige of doubt any new thing in their life are likely to adopt a more cautious position on any issue, including vaccination. "People, who are saying that they are not going for a vaccination, do not realize that they are doing something, which is against the interests of their children," said Aman Gupta.
Both analysts said that the health authorities should pay more attention to "educating" people about vaccination – particularly though the very same social media channels that are now used to spread false information.
Gagan Gupta pointed out that UNICEF has already worked with major printed and online media in India to counter misinformation with "positive messaging," which allowed them to increase the immunization coverage from less than 50 percent to more than 90 percent in some Indian regions.
"We have to be proactive … we have to assess the risks associated with any big vaccination campaign and be one step ahead – particularly in the field of communication," the UNICEF health specialist said.
Capitalizing on problem
However, the situation might in fact be not that simple as Facebook's internal practices are contributing to the issue, according to Yair Cohen, a social media lawyer and the author of the book 'The Net is Closing: Birth of the e-police'.
Following the global measles outbreak, which hit developed and developing countries alike and was largely blamed on anti-vaxxers movements, the social media giant said it would ban certain ads on Facebook and downgrade anti-vaxxer pages, using certain algorithms.
The Facebook-owned WhatsApp, meanwhile, said it is committed to maintaining its users' privacy and cannot view or monitor the messages spread through its channels. Although, it did say that it would make it harder to forward messages to large groups of people – apparently, regardless of their content.
However, all this rhetoric might be a ruse, Cohen believes. "It is very interesting that Facebook separates itself from WhatsApp when it suits its narrative. Most users of WhatsApp are also users of Facebook. The reason why Facebook acquired WhatsApp is to gather more and more data about people."
The social media lawyer explained that the system behind all Facebook-owned social media apps in fact encourages a person to use all of them and the same system is also aimed at showing the people certain information based on their personal data it collects. In case of anti-vaccine propaganda, it might well mean that a person who received a message containing misleading information on vaccination is likely to get Facebook ads sponsored by anti-vaxxers.
Also on rt.com
Toxic reaction: Anti-vaxxers may be wrong, but Facebook censoring people for being wrong is worse
"The problem is the accumulated effect of the messages sent to users via these platforms," Cohen said. "One platform feeds the other. So Facebook's argument that it is a matter of privacy and that WhatsApp is a standalone app is not quite true. Facebook has recently relaxed WhatsApp's privacy rules to enable to send date from the app to Facebook, so it can change the privacy policies."
One way to reduce the threat posed by false information spread through the Facebook-owned apps is to prevent the social media giant from sharing the users' data across its platforms, the social media lawyer believes. "If this happens, then messages received via WhatsApp will not be as powerful and influential as they are now."
Think your friends would be interested? Share this story!
You can share this story on social media: