Trump asserts executive privilege over Robert Mueller's report – DOJ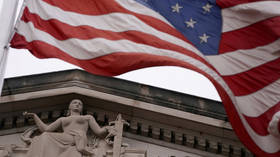 US President Donald Trump has invoked executive privilege over the unredacted Mueller report and other materials subpoenaed by the House Democrats, the Justice Department has said.
The decision was announced by Assistant Attorney General Stephen Boyd in a letter to the House Judiciary Committee on Wednesday morning. The committee was poised to vote on a contempt citation against Attorney General William Barr over failure to present the unredacted Mueller report and other materials that have been demanded through subpoena.
Also on rt.com
'Mind-bendingly bizarre': Barr hearing shows 'Russiagate' still has hold on US politics
"We are disappointed that you have rejected the Department of Justice's request to delay the vote of the Committee on the Judiciary on a contempt finding against the Attorney General," Boyd wrote in the letter. "Accordingly, this is to advise you that the President has asserted executive privilege over the entirety of the subpoenaed materials."
The White House defended Trump's move, stating that the president had "no other option" besides invoking executive privilege, as he faced "blatant abuse of power" from the committee's chairman Jerrold Nadler (D-New York).
Democrats have sought more information about the special counsel investigation into President Trump's alleged Russia ties, requesting a complete, unredacted version of the special counsel's final report, as well as testimony from Robert Mueller and Attorney General William Barr.
The DOJ recently offered to allow select lawmakers to see a more complete version of the report in a secure room, but for many Democrats that was not sufficient.
The White House's assertion of executive privilege was likely prompted by the House Judiciary Committee scheduling a vote to hold Barr in contempt of Congress on Wednesday over his handling of the Mueller report.
US presidents have the authority to prevent certain privileged information from being made public, but some legal analysts say President Trump waived that authority when he cooperated with the special counsel investigation.
"It is not true the president waived executive privilege by sharing materials with the Special Counsel's office," one DOJ official told Reuters, adding that a prior opinion from the attorney general was "clear [that] there is no waiver when the White House cooperates with DOJ by providing materials to law enforcement."
The official said the White House's move would not interfere with Mueller's ability to testify before Congress. The former special counsel's testimony is scheduled for next week.
Subscribe to RT newsletter to get stories the mainstream media won't tell you.
You can share this story on social media: