2 killed, 4 injured in University of North Carolina shooting on last day of classes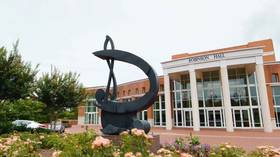 Two people have been killed and at least four injured in a shooting at the University of North Carolina at Charlotte. Police reportedly have one male suspect in custody.
Shots were fired near the Kennedy building on the UNCC campus on Tuesday afternoon around 4:40pm and the campus was temporarily locked down in response, with the school issuing an alert advising students to remain in a safe location. As police swept the remaining buildings on the campus, students were released to reunite with parents or family members at a designated location.
Numerous emergency vehicles responded to the scene.
Two patients were dead on arrival and three more were in critical condition, according to police. Six victims in total were taken to to area hospitals.
Tuesday was the last day of classes and a concert was scheduled for the evening.
Videos retweeted by local media show students running and walking away from the building where the shooting occurred and police running toward the building, as well as a high concentration of emergency vehicles, including helicopters flying overhead.
A video posted by a student shows police leading an individual believed to be the shooter away.
Last year, a UNCC student was arrested and committed to a hospital after telling a doctor that he "could not wait to buy a gun and shoot the university up" and discussing an "explicit detailed plan…about killing and harming [UNCC] students and staff," according to campus police. A search of his room turned up a copy of the school's emergency response guide, with the section on dealing with active shooters attached to the wall – but no weapons. The student was banned from entering the campus.
Like this story? Share it with a friend!