US Deputy AG Rosenstein resigns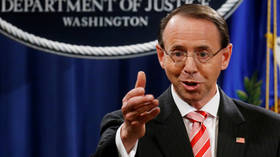 Deputy Attorney General Rod Rosenstein has submitted his resignation in a letter to President Donald Trump. The resignation will take effect on May 11.
Rosenstein became deputy AG in April 2017, quickly finding himself in charge of the FBI's 'Russiagate' investigation instead of the recused AG Jeff Sessions – and authoring both the memo used to justify Trump's firing of FBI Director James Comey and the memorandum authorizing the appointment of Robert Mueller as special counsel, after Trump's critics called Comey's sacking "obstruction of justice."
Here is Deputy Attorney General Rod Rosenstein's resignation letter to Trump today — he'll officially leave on May 11."We keep the faith, we follow the rules, and we always put America first." pic.twitter.com/4DrfQcNFjq

— Zoe Tillman (@ZoeTillman) April 29, 2019
The departing deputy AG wrote to Trump he was "grateful" for the opportunity to serve, "the courtesy and humor you often display in our personal conversations; and for the goals you set in your inaugural address."
Rosenstein's resignation letter contains several lengthy passages, in which he talks about the importance of nonpartisanship at the Department of Justice. Quoting several former US officials, Rosenstein argues the DOJ "bears a special responsibility to avoid partisanship. Political considerations may influence policy choices, but neutral principles must drive decisions about individual cases."
Also on rt.com
'Blink twice if you're ok!' Twitter watches Rod Rosenstein's eyes for proof of collusion
"We enforce the law without fear or favor because credible evidence is not partisan, and truth is not determined by opinion polls. We ignore fleeting distractions and focus our attention on the things that matter, because a republic that endures is not governed by the news cycle," Rosenstein wrote.
We keep the faith, we follow the rules, and we always put America first.
The deputy AG's role in overseeing the Mueller probe has made him a controversial figure in Washington. There were fears Trump would fire him in the fall of 2018, following a report – later sourced to disgraced former FBI deputy director Andrew McCabe – that Rosenstein had talked about "wearing a wire" and seeking to entrap the president in a 25th Amendment resignation scheme. Rosenstein denied the reports, and was allowed to stay in office.
Also on rt.com
Tinker, traitor, lawyer, lie: NY Times claims DAG Rosenstein suggested secretly recording Trump
He did not, however, become acting AG when Sessions was ousted in November; Trump entrusted the job to Sessions's chief of staff Matthew Whitaker until William Barr was confirmed by the Senate in February.
Rosenstein's name also appeared on the FISA surveillance warrant against Carter Page, a former Trump campaign adviser, which the president and his associates believe was used to US spy agencies to gain access to the entire campaign in the run-up to the 2016 election. Trump supporters have dubbed the scandal 'Spygate' and are still pressing for declassification of those documents.
Think your friends would be interested? Share this story!
You can share this story on social media: