Satanic Temple sues city for withdrawing permission for DEVILISH monument (PHOTO)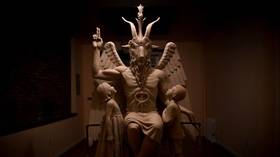 The controversial Satanic Temple is giving its lawyers another workout, this time suing a city in Minnesota for withdrawing permission for a monument dedicated to the devil.
The Salem-based activist group's co-founder Malcolm Jarry said that, while people have a right to protest the proposed monument in the city of Belle Plaine, it can not result in the violation of the organization's civil rights to have one.
"As you well know, you can't decide to suppress speech just because hecklers didn't like it," Bruce Fein, a Washington DC-based lawyer representing the Temple, told the Star Tribune.
Also on rt.com
What keeps Satanists awake at night? That would be… US VP Mike Pence
The roots of the row go back two years when a heated debate over religious symbols in public places kicked off in Belle Plaine after a statue of a soldier praying over a grave marked with a cross was placed at a memorial park for veterans.
The Satanic group argued that the monument violated the separation of church and state, and requested to erect their own statue in a designated "public forum." The proposed statue is a 23-inch black cube inscribed with an inverted pentagram, topped with an upturned helmet.
The city initially approved the request – which would have been the first satanic monument on US public property. But it was decided to withdraw approval and remove the soldier's monument after receiving complaints from both sides of the spectrum.
"I knew this was going to be a problem," said Belle Plaine Councilman Paul Chard about the city's acceptance of the soldier's monument. "The pot got stirred pretty quick."
READ MORE: A Deal with the Devil: Satanists settle lawsuit with Netflix in good faith
An Arkansas arm of the Temple has since gone on to place a statue of a goat-headed creature in protest against a Ten Commandments monument in the capital.
The Satanic Temple claims it is the world's largest satanic organization. It has 18 chapters across the United States. The group says it doesn't worship Satan or believe in any supernatural beings. It advocates a stricter separation of church and state, and believes in individual sovereignty and the rejection of tyrannical authority.
Like this story? Share it with a friend!
You can share this story on social media: