'I'm f***ed': Twitter facepalms as Clinton impersonates Trump's Mueller report quote (VIDEO)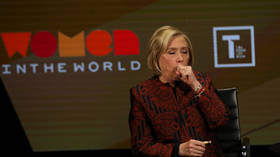 Hillary Clinton impersonating US President Donald Trump while reading excerpts from the Mueller report has sparked an outpouring of groans across the internet.
Video of the defeated 2016 presidential candidate reading the report was released as part of a promotional drive for comedian Jordan Klepper's new show on Comedy Central.
During the cringe-inducing segment, Klepper, Hillary and Bill Clinton discuss potential crowdfunding campaigns to which Klepper might donate. He asks the Clintons to advise him, given their auspicious history of fundraising for their own Clinton Foundation, and 'hilarity' ensues.
One potential crowdfunding campaign is raising money for Clinton to "record an audiobook of her reading the Mueller report."
Needless to say, many commentators on Twitter responded with a collective groan.
*WATCH*
Failed Candidate
Hillary Clinton Reads Portion of Mueller Report Where Trump Says
He's 'F-cked

Still salty about losing 2016
pres election to @POTUS

Their desperate to appear cool & likable

These SOB's have No Idea of STORM THAT'S COMING#MAGAhttps://t.co/V6JjPXuOKL

— 🎸Mr. McBeeVee 🎸 (@adriandt31) April 29, 2019
CNN's "Reliable Sources," played a clip today of Jordan Klepper's new Comedy Central show in which Hillary Clinton mocked President Trump's voice while reading a portion of Robert Mueller's report.https://t.co/Q59Nfx7glV

— 🇺🇸 Jack Ralph 🇺🇸 (@NevadaJack2) April 29, 2019
If Hillary Clinton had been as cooperative and transparent during her email server investigation as Donald Trump has been during the Mueller report inquiry, she wouldn't be complaining on tour engagements about Trump getting special treatment for being president.

— Rising serpent (@rising_serpent) April 29, 2019
You can stop now. She ran a terrible campaign, she assumed victory in states she didn't campaign it, lost every swing state, screwed Bernie Sanders in the primary, and then wasn't smart enough to make him her running mate.. She deserved to lose.

— philip (@PhilipTrucchio) April 29, 2019
I would like to hear her read any of @JuanitaBroaddrick's interviews as well.

— Arec Barrwin (@realarecbarrwin) April 29, 2019
I would rather watch her read the 2016 Election results.

— Ricky Felts (@25footshot) April 28, 2019
Bill Clinton looks at Hillary Clinton reading the Mueller report the same way I look at my my leftovers while they're being reheated in the microwave. pic.twitter.com/O16aURZJAb

— Jason Walls (@Jasonwalls92) April 29, 2019
Though some were apparently genuinely amused by the sketch it seems.
I ❤️ this so much that I may fall out from the sheer delight of it!

Esp for those of you who responded to my post about getting the Audible version of the Mueller report & my desire for Hillary Clinton to read it - please check out the below (supplied by the lovely Matt Rogers): https://t.co/0fgRvUyE9H

— Rogue Capt Janeway ✨∑✨ (@CaptJaneway2017) April 28, 2019
In case you were having a bad day, enjoy this video of Hillary reading one of the best parts of the Mueller Report: pic.twitter.com/9I1A20fUwt

— Protect Robert Mueller ✊ (@DisavowTrump20) April 29, 2019
During the skit, the Clintons also accused sitting Attorney General William Barr of misrepresenting the contents of the 448-page Mueller report. The report concluded there was no conspiracy between Trump's campaign and Russia but whether the president obstructed justice was left open-ended by the special prosecutor.
Also on rt.com
Fake news takedown: Journalist shreds Rachel Maddow's Russiagate conspiracies
Like this story? Share it with a friend!