'I'm f***ed': Twitter facepalms as Clinton impersonates Trump's Mueller report quote (VIDEO)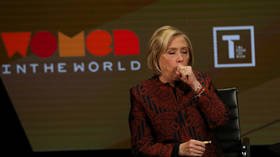 Hillary Clinton impersonating US President Donald Trump while reading excerpts from the Mueller report has sparked an outpouring of groans across the internet.
Video of the defeated 2016 presidential candidate reading the report was released as part of a promotional drive for comedian Jordan Klepper's new show on Comedy Central.
During the cringe-inducing segment, Klepper, Hillary and Bill Clinton discuss potential crowdfunding campaigns to which Klepper might donate. He asks the Clintons to advise him, given their auspicious history of fundraising for their own Clinton Foundation, and 'hilarity' ensues.
One potential crowdfunding campaign is raising money for Clinton to "record an audiobook of her reading the Mueller report."
Needless to say, many commentators on Twitter responded with a collective groan.
Though some were apparently genuinely amused by the sketch it seems.
During the skit, the Clintons also accused sitting Attorney General William Barr of misrepresenting the contents of the 448-page Mueller report. The report concluded there was no conspiracy between Trump's campaign and Russia but whether the president obstructed justice was left open-ended by the special prosecutor.
Also on rt.com
Fake news takedown: Journalist shreds Rachel Maddow's Russiagate conspiracies
Like this story? Share it with a friend!
You can share this story on social media: