New York AG launches investigation into NRA finances as it is beset by internal strife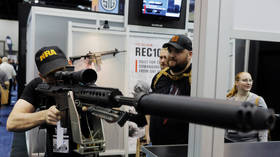 The New York State attorney general has opened a probe into the National Rifle Association's (NRA) finances, which could see it lose its non-profit status. It comes as the group's president leaves amid accusations of blackmail.
New York State Attorney General Letitia James, a Democrat who led a highly politicized campaign promising to put the Trump Organization and NRA's non-profit status under scrutiny, has taken the gun rights organization to task, announcing an investigation into its finances on Saturday. The AG office's spokeswoman, Kelly Donnelly, said that James has already issued a subpoena related to the nascent case.
James became New York State AG after scoring a landslide victory in November. However, ever since the beginning of her campaign, her impartiality has repeatedly been called into question. A political ally of New York Governor Andrew Cuomo, James vowed to crack down on President Donald Trump's businesses and his administration's policies, while saying that she won't shy away from "challenging this illegitimate president."
Also on rt.com
NRA says it may no longer exist as non-profit due to Cuomo's onslaught, Twitter erupts
NRA lawyer William A. Brewer said on Saturday that the organization "will fully cooperate with any inquiry into its finances." A potential new set of legal woes could not have come at a worse moment for the NRA, which is being torn apart by a bitter internal row, with its president, Oliver North, about to step down.
In a message read to the NRA convention on Saturday, North said that he initially planned to run for re-election after his term expires on Monday but was "informed that will not happen." North is a retired US Marine best known for his involvement in the Iran-Contra affair. His resignation follows a very public scandal that has gripped the organization in the run-up to its annual meeting in Indianapolis.
In a letter to the NRA board published by the Wall Street Journal on Friday, NRA CEO Wayne LaPierre accused North of forcing him to step down under the threat of releasing kompromat on him.
"The letter would contain a devastating account for our financial status, sexual harassment charges against a staff member, accusations of wardrobe expenses, and excessive staff travel expenses," LaPierre wrote. North allegedly told him the damning data would be swept under the rug if he agrees to resign.
North hit back, stating in another letter that he would establish a committee to look into the allegations of financial misconduct against LaPierre over his handling of the organization's finances.
The NRA saw its standing take a blow after the Parkland school shooting last year that reignited a gun control movement and made it the prime target for gun control advocates.
The NRA is used to having it hard in New York, where it has been at war with New York Governor Andrew Cuomo. In August last year, the NRA filed a lawsuit, which lists Cuomo in both his official and individual capacity as the defendant, claiming that he intimidated the association's main insurance providers into severing ties with the organization by hitting at least one of them, Lockton Companies, with a $7 million fine for "unlawfully" providing Carry Guard insurance to legal gun owners. Carry Guard insurance, which is aimed at protecting gun owners who use their weapons in defense, has been dubbed "murder insurance" by its critics.
In the lawsuit, the NRA said that Cuomo has been waging a "vendetta" on them with "selective prosecution, backroom exhortations and public threats," adding that it may no longer be able to exist as a non-profit under such legal and financial pressure.
Think your friends would be interested? Share this story!
You can share this story on social media: