Elon Musk must have tweets approved by lawyer as part of SEC settlement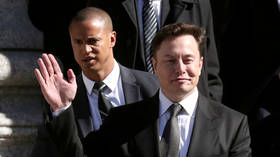 Tesla CEO Elon Musk has reached an agreement with the US Securities and Exchange Commission (SEC) ending his months-long standoff with the regulator over his social media use.
The deal requires the entrepreneur to have his tweets about the car company pre-approved by a securities lawyer before he hits the tweet button. The arrangement covers a range of topics relating to the car-maker including the company's financial health, production or delivery numbers and any potential mergers.
Also on rt.com
'I'm an absolute unit too': Musk revives viral 2018 ram meme in bizarre exchange with English Museum
The SEC brought the case against Musk alleging he had violated a previous settlement requiring oversight of his social media use. The amended settlement places significantly more specific restrictions on Musk.
If approved by a US District judge the arrangement would mean that Musk could no longer be held in contempt of court. This would be a positive outcome for the CEO who faced hefty fines and possibly losing his job had he lost this most recent battle with the SEC.
Also on rt.com
Tesla gets slap on the wrist from US environmental agency over hazardous waste violations
It marks a ceasefire in Musk's protracted spat with the commission which was triggered by the Tesla founder's casual Twitter use.
A second pair of eyes looking at his Tesla related tweets is probably not a bad idea for a guy who called one of the rescuers of the Thai cave boys "pedo guy". Vernon Unsworth is suing Musk for defamation over the comment and on Friday a federal judge in Los Angeles denied Musk's request that the case be dismissed.
Like this story? Share it with a friend!
You can share this story on social media: