'I'm an absolute unit too': Musk revives viral 2018 ram meme in bizarre exchange with English Museum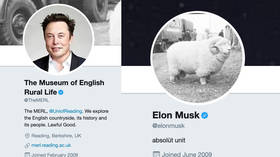 Elon Musk and, of all places, the Museum of English Rural Life have become embroiled in a bizarre but hilarious exchange on Twitter, swapping their avatars while reviving a photo of a sheep which went viral in 2018.
Musk changed his Twitter avatar on Wednesday after responding to an MIT tweet evoking the 'absolute unit' tweet by the Museum of English Rural Life tweet last year. The ram picture went viral last April, gaining more than 100,000 likes and earning the museum, part of the University of Reading, a place in the pantheon of online shenanigans.
What ensued was a stunning exchange in which the tech entrepreneur and museum swapped profile photos.
The memeing masses couldn't resist joining in the action, leading to some god-tier twitter humor.
The maverick tech entrepreneur has shown a penchant for memes before, participating in YouTube star PewDiePie's meme Review.
READ MORE: Joint enterprise: Elon Musk shares marijuana with Joe Rogan as pair talk AI & flamethrowers
Musk himself became a meme after smoking a joint during an infamous appearance on the Joe Rogan Podcast, a move which impacted Tesla's share price and sparked an SEC investigation.
Like this story? Share it with a friend!
You can share this story on social media: