'I beg for mercy': Maria Butina's TEARFUL plea for leniency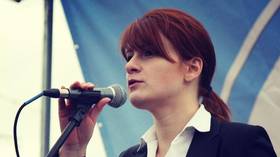 Maria Butina, a gun activist who is accused of acting as an undeclared agent of Russia in the United States, offered an emotional request for mercy before she was handed an 18-month prison sentence.
"My parents discovered my arrest on the morning news they watch in their rural house in a Siberian village," she told a judge in a shaky voice at her hearing Friday. "I love them dearly, but I harmed them morally and financially. They are suffering from all of that. I destroyed my own life as well."
"Now I beg for mercy, and the chance to go home and restart my life."
The judge agreed to have Butina deported to Russia after she finishes her 18-month sentence, which will be reduced by half, accounting for the nine months she already spent in custody.
Also on rt.com
US court sentences Russian gun activist Maria Butina to 18 months in jail
While she admitted to working under the direction of Russian politician Alexander Torshin, Butina denied the broader accusations that she worked on behalf of Moscow, and said she didn't know she was supposed to register as a foreign agent.
"I came to the United States not under any orders, but with hope, and now nothing remains but penitence," she said, adding that "I just didn't register because I didn't know to."
Though prosecutors have admitted that Butina was not a spy in a traditional sense, they believe she was meant to seek out Americans who might be useful to the Russian government, and could have done harm to US national security.
Butina was arrested in Washington DC in July of 2018. She was accused of infiltrating US political organizations on behalf of the Kremlin starting as early as 2012, including the National Rifle Association and other conservative groups.
Also on rt.com
Prosecution asks court to deport Russian gun activist Butina upon her sentencing next month
Subscribe to RT newsletter to get stories the mainstream media won't tell you.
You can share this story on social media: