Starbucks rolls out drug needle disposal bins to follow up addict-friendly open bathroom policy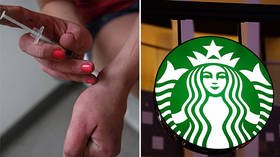 Starbucks is installing needle-disposal boxes in its US bathrooms after getting fined over its lack of response to a spike in needle-stick injuries among employees under its addict-friendly "open-door" bathroom policy.
The coffee behemoth has installed the boxes in 25 cities after the Oregon Occupational Safety and Health Administration (OSHA) slapped the company with a $3,100 fine for endangering workers. Starbucks was penalized for failing to provide sharps-disposal containers "in or near bathrooms where contaminated sharps were commonly found," failing to make the Hepatitis B vaccine available to employees who could be exposed to the disease through contaminated needles, and failing to provide proper training and "exposure-control programs."
Also on rt.com
Opioid overdoses surpass car crashes among leading causes of death in US - report
By summer 2019, Starbucks plans to have the boxes everywhere "deemed necessary" – which, considering that Americans are now more likely to accidentally die from an opioid overdose than a car crash, may be most of the country. Store managers can request a box for their location if they don't want to wait for the rollout.
"We have had zero toilet clogs and zero needles found in an unsafe place since we had them installed last month," an employee told Business Insider. "It's been really wonderful."
Thousands of employees signed a petition last year demanding the boxes be installed, tired of worrying about needle-sticks and other dangers and complaining that "the frequency of needles being left in the bathrooms…increased significantly in recent months" after Starbucks began an official policy of allowing non-customers to use the bathroom.
Employees' gratitude stands in sharp contrast with what until very recently was corporate denial. The OSHA probe was sparked in October by a complaint from an employee who was stuck by a needle while cleaning the bathroom. Investigators soon found these injuries so common that a second employee filed a similar complaint while they were investigating the first, according to the agency's report. Neither employee was contacted by Starbucks' corporate office, yielding another demerit from OSHA. Starbucks claims employees who feel unsafe performing a task (such as disposing of stray hypodermics) can speak to their managers, but needles are often concealed in trash bags or other hard-to-see places and employees who get stuck may end up saddled with huge hospital bills for emergency room visits and antiviral medication.
Also on rt.com
Howard Schultz (net worth $3.4bn) wants people to stop using the word 'billionaire'
Many Starbucks employees say drug use in their bathrooms spiked last year after the coffee chain changed its bathroom policies to allow open access following the controversial arrest of two black men in Philadelphia who asked to use the bathroom without buying anything.
If you like this story, share it with a friend!
You can share this story on social media: