Measles outbreak set to smash 10-year yearly record in first months of 2019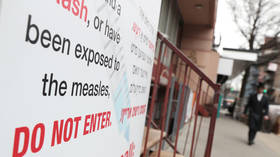 Fines of $1,000, public space lockouts, school shutdowns and other drastic measures have failed to stop a measles outbreak in the US. Four months into this year, 626 cases have been registered and the record for one year is 667.
The Centers for Disease Control and Prevention reported on Monday that the current measles outbreak in the US is on course to become the biggest since the highly infectious disease was formally eradicated in the country in 2000.
Also on rt.com
US judge rejects parents' challenge to NYC mandatory measles vaccine order
"In the coming weeks, 2019 confirmed case numbers will likely surpass 2014 levels," the CDC said. Five years ago, there was a spike in the number of measles cases, which reached 667 by the end of the year. However, the 2014 outbreak is no match for the current one. Since the beginning of this year, 626 cases have been confirmed, and the disease shows no sign of stopping. Seventy-one new cases were registered last week.
New York state has become the hardest-hit area. New York health officials reported 359 measles cases from last October up to April 18. The rapid spread of the disease in the US, where there is no shortage of the measles-mumps-rubella (MMR) vaccine, has been linked to Orthodox Jewish communities where parents refuse to immunize their children, citing religious beliefs.
Two New York counties have declared an emergency over the measles outbreak. In Rockland County, officials banned everyone under 18 who is not vaccinated from public places, including churches, malls and schools, from March 26. The ban was intended to last 30 days and envisaged a $500 fine or a jail sentence up to six months for offenders. However, early this month it was overridden by the Supreme Court, which ruled in favor of a group of parents who took the county to court. Under a new plan unveiled last week, anyone who is unvaccinated and exposed to measles must stay home for a certain period of time or face a $2,000-per-day fine. The order also bans unvaccinated children from schools located in two zip codes.
A health emergency has also been in effect in the Williamsburg neighborhood of Brooklyn. The parents of children aged over six months and living in certain areas were ordered to get them vaccinated within 48 hours of face a $1,000 fine.
At least three parents have been slapped with the fine and threatened with another $2,000 penalty if they fail to appear before court. An anonymous group of parents tried to contest the mandatory measles vaccination in Brooklyn court last week but it sided with the county, rejecting their argument that it had violated their religious freedom, medical ethics and human rights.
Several schools that have refused to provide medical records for their pupils have been shut down amid the outbreak, including an Orthodox Jewish daycare center in Williamsburg.
The outbreak has been blamed on the anti-vaxxers movement that is gaining momentum around the world. Opponents of mandatory vaccination argue that the vaccine shot can cause dangerous side-effects and lead to autism. The CDC says that there is no scientific evidence that the MMR vaccine is responsible for autism, insisting it's "very safe." While there have not been any deaths from the outbreak, it is a possible outcome in severe cases. Those who are most at risk are infants and children.
Like this story? Share it with a friend!
You can share this story on social media: