Crewed flight setback? Leaked video suggests SpaceX capsule is ANNIHILATED in safety test 'anomaly'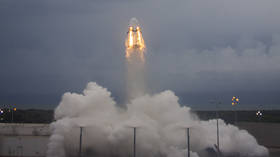 With SpaceX and NASA still mute on details of what they dubbed an 'anomaly' during the latest Crew Dragon capsule safety test – a video has leaked online apparently showing a 'rapid unscheduled disassembly' event, aka a big boom.
A huge plume of smoke could be seen rising from Cape Canaveral Air Force Station in Florida on Saturday, after the Crew Dragon capsule being developed by SpaceX to ferry NASA astronauts to space reportedly exploded on the test stand. While the company confirmed suffering an "anomaly" during the test of the emergency response system's abort engines, it has not shared any details about the accident.
Also on rt.com
SpaceX Crew Dragon suffers 'anomaly' during engine test, smoke seen for miles (PHOTOS)
"Our teams are investigating and working closely with our NASA partners," the company stated, noting that "detecting anomalies like this prior to flight are the main reasons why we test."
With SpaceX and NASA seemingly downplaying the incident, an unverified video leaked online on Sunday, showing the capsule blow up into pieces, to the gasps of the audience that was apparently reviewing and analyzing the 'anomaly.'
The incident could potentially impact SpaceX's already delayed timeline for launching a manned mission into space, since the system is crucial for the safety of future astronauts on board should something go wrong during a launch into orbit. Following the successful maiden unmanned flight in March, the company was hoping to test the capsule with pilots on board in July.
"The launch of the Dragon 2 spacecraft in July is out of the question. [It can take place] not earlier than the end of the year," a source in the aerospace industry told Sputnik. "It is necessary to deal with the causes of the accident that took place during the tests. All this would take a long time."
Also on rt.com
Roscosmos 'ready to help' NASA if construction of Soyuz alternative is delayed
For the last eight years, NASA has been dependent on Russia to ferry its astronauts to the International Space Station, paying Roscosmos up to $81 million per seat. It hoped to finally end this reliance this spring, but with setbacks suffered by both SpaceX and Boeing with its CST-100 Starliner, it was forced to purchase at least two more Soyuz rides to guarantee US astronauts' access to the station.
Think your friends would be interested? Share this story!