AG Barr has 'no objection' to Mueller testifying as Democrats say he 'spun' report in Trump's favor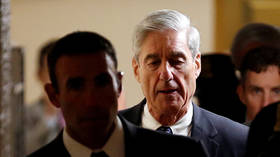 US Attorney General William Barr has "no objection" to Special Counsel Robert Mueller testifying before Congress regarding his investigations into now-disproven "collusion" between the 2016 Trump campaign and Russian officials.
Barr was addressing reporters gathered for a press conference ahead of the release of what is expected to be a "lightly redacted" version over Mueller's final report.
In response to press questions, AG Barr said he had "no objection" to Robert Mueller testifying before Congress on his investigation and report. pic.twitter.com/GCD2vuCwFS

— Mark Knoller (@markknoller) April 18, 2019
Also on rt.com
Top Democrats call for Mueller to testify over his report
During his remarks, Barr reaffirmed to reporters that the two-year long investigation concluded that there was "no evidence" that any American — whether part of Trump's campaign or otherwise — colluded with Russian officials in an attempt to sway the outcome of the election. Barr quoted the report itself and was emphatic about the fact that there was "no collusion" during the campaign.
We cannot take Attorney General Barr's word for it. We must read the full Mueller report, and the underlying evidence. This is about transparency and ensuring accountability. https://t.co/eNDgQKJHa8

— (((Rep. Nadler))) (@RepJerryNadler) April 18, 2019
Democrats, however, have been speculating that Barr has spun the report in Trump's favor and want to hear directly from Mueller. House Judiciary Committee Chairman Jerry Nadler tweeted on Thursday that Congress must hear from Mueller "in person" to "better understand" the findings of the report.
Minutes after Barr wrapped up his press conference, Nadler published a letter asking Mueller to testify no later than May 23.
House speaker Nancy Pelosi attacked Barr and the "staggering partisan effort" by the Trump administration to "spin" the public's view of the Mueller report. It is unclear whether Pelosi believes Barr is lying about the report's contents or mischaracterizing Mueller's findings, but with the report to be released in a matter of hours, the public will be able to assess the situation for themselves.
Also on rt.com
Will the Mueller report make the New Cold War even worse? (by Stephen Cohen)
Subscribe to RT newsletter to get stories the mainstream media won't tell you.
You can share this story on social media: