Assange charged with helping Manning crack password to leak classified US docs – DOJ statement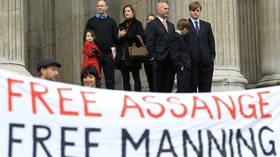 The US indictment against Julian Assange alleges that the whistleblower engaged in "conspiracy" with US Army soldier Chelsea Manning in 2010, according to a statement from the US Department of Justice.
The statement said Assange is charged with conspiracy to commit computer intrusion and alleged attempts to break the password for a classified US government computer.
Julian Assange, founder of WikiLeaks, charged in computer hacking conspiracy. Click here for copy of the indictment: https://t.co/9JItxR6VRX

— U.S. Attorney EDVA (@EDVAnews) April 11, 2019
The indictment alleges that Assange helped Manning crack a password stored on a US Department of Defense computer, which Manning had access to in connection with her role as an intelligence analyst.
Manning and Assange had "real-time discussions" regarding the transmission of classified documents, during which Assange allegedly encouraged Manning to provide "more information."
Also on rt.com
Assange has been arrested 'in relation to a US extradition request' - lawyer
"After this upload, that's all I really have got left," Manning allegedly told Assange, who is alleged to have replied: "curious eyes never run dry in my experience."
The DOJ says part of what Assange did to justify his prosecution - beyond allegedly helping Manning get the documents - is he encouraged Manning to get more docs for him to publish. Journalists do this with sources constantly: it's the criminalization of journalism pic.twitter.com/GXNjWlkFZw

— Glenn Greenwald (@ggreenwald) April 11, 2019
Assange will be "presumed innocent unless and until proven guilty beyond a reasonable doubt," but faces a maximum of five years in prison, if convicted, the statement said.
Assange was arrested by UK police at the Ecuadorian embassy on Thursday morning, after Quito withdrew asylum and then suspended his citizenship. The Australian whistleblower had been living in exile at the embassy in west London for nearly seven years.
Also on rt.com
Exposing 'collateral murder' and mass surveillance: Why the world should be grateful to Assange
Think your friends would be interested? Share this story!
You can share this story on social media: