Man planning truck ramming attack at National Harbor near DC 'inspired by ISIS' - DOJ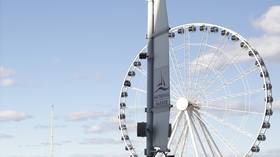 A Maryland man was planning to commit a terrorist attack at National Harbor, just outside Washington, DC, using a stolen truck and tactics 'inspired' by Islamic State, according to the US Department of Justice
Rondell Henry, 28, allegedly planned to use a vehicle to kill pedestrians at the waterfront development just outside the US capital, according to the federal indictment announced by the DOJ on Monday. He was charged with "interstate transportation of a stolen vehicle."
Henry was arrested March 28 in Prince George's County, Maryland, with a U-Haul truck stolen from a parking garage in nearby Alexandria, Virginia several days earlier.
"He had no escape plan, intending to die while killing others for his cause," the DOJ said in a court filing.
BREAKING: Federal authorities have charged 28yo Rondell Henry of Germantown, Md., alleging he stole a UHaul van and planned to use it to run over a large group of people at National Harbor. "He harbored hatred for those who do not practice the Muslim faith," authorities say. pic.twitter.com/n9qScYnpqX

— Kevin Lewis (@ABC7Kevin) April 8, 2019
Federal authorities say that Henry harbored "hatred" for non-Muslims for two years, and that he was inspired by videos of foreign terrorists to replicate the Nice attack.
A truck ramming attack killed 86 and wounded 450 people in Nice, France during the Bastille Day celebrations in July 2016. The attacker was identified as 31-year-old French resident of Tunisian origin, Mohamed Lahouaiej-Bouhlel.
Henry's first target was Dulles International Airport in Virginia, where he drove the stolen U-Haul on March 27, but he gave up after two hours of unsuccessfully trying to breach the airport's security perimeter, the DOJ said. He then allegedly drove to National Harbor, where he spent the afternoon before breaking into a boat overnight. Henry was arrested by Prince George's County police the following morning, after leaping over the security fence around the boat dock.
The detention hearing is scheduled for Tuesday before a federal judge in Maryland. If convicted, Henry faces a maximum sentence of 10 years in prison.
Islamic State (IS, formerly ISIS/ISIL) once held large portions of Iraq and Syria and declared itself a "caliphate." Starting in mid-2015, it was rolled back by Russian-backed Syrian army on one side, and the US-backed Iraqi army and Kurdish militias on the other. The last IS outpost on the Syrian-Iraqi border surrendered last month.
Like this story? Share it with a friend!
You can share this story on social media: