Post-Russiagate Dems pin hopes on Trump tax returns, stubbornly avoid real issues as 2020 looms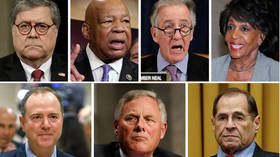 Congressional Democrats have another lengthy probe locked and loaded, targeting US President Donald Trump right in the wallet, now that he's emerged from two years of Russiagate investigation with nary a scratch.
Apparently hoping to pull an Al Capone on the commander-in-chief, House Ways and Means Committee chair Richard Neal has requested the last six years of Trump's tax returns from the Internal Revenue Service, a signal that Washington's rats are finally bidding farewell to the sinking ship of Russian collusion. The request also covers eight of Trump's companies.
Also on rt.com
'Unlimited Presidential Harassment': Trump blasts House Intel chair for financial investigation
"Is that all?" Trump responded to the news, maintaining that he was in the midst of an audit and thus couldn't release the information – the same excuse he deployed during the election, when he became the first major candidate in 40 years not to release the returns, taking advantage of the fact that there's no law mandating he do so – even though two out of three voters think there should be.
Seeing the Russiagate writing on the wall, House Democrats have been digging through Trump's finances for months, with Intelligence Committee chair Adam Schiff announcing an unprecedented fishing expedition in February, to not only re-tread ground covered by a previous (Republican-led, and therefore tainted) congressional probe, but to expand beyond Russia – to Saudi Arabia, the United Arab Emirates, hell, even to Mars if it turns up some financial dirt on Trump.
Also on rt.com
'The band plays on': Sanctions bill shows Mueller Report didn't calm US appetite to punish Russia
Not all Dems have put Russiagate behind them, of course – a diehard group of Putin obsessives led by Rep. Jerrold Nadler, chairman of the House Judiciary Committee, is clinging to the still-unseen Mueller report for dear life, demanding Congress be allowed to review the whole thing on the off-chance it "probably isn't the 'total exoneration' the president claims it to be." While Trump himself has said he has "nothing to hide," and Republican voices have joined the chorus calling for the Mueller report's release, two years of flogging the Russian collusion conspiracy theory makes it a tough habit to break.
Also on rt.com
Russia is behind the 'creepy' Joe Biden scandal, latest conspiracy claims
Forward-thinking Democrats are looking ahead to 2020, laying the groundwork for still more Russia-blaming if their preferred candidate – tried-and-true arch-corporate neoliberal Joe Biden – loses the Democratic nomination because he can't keep his hands to himself. Multiple women accusing Obama's vice president of uber-creepy not-quite-sexual harassment are being dismissed as Russian stooges, while those who retweet gifs of the former VP creeping on children are merely doing Moscow's bidding. That goes double for anyone who tweets in support of Bernie Sanders, the Vermont senator who nearly edged out Hillary Clinton for the Democratic nomination in 2016, despite having a tiny sliver of her budget and media coverage.
The Democratic machine has been hard at work against Sanders, forcing him to sign a loyalty oath pledging to support the Democratic candidate if he does not win the nomination. Irked by the antics of its freshman class in Congress, the Democratic Congressional Campaign Committee has vowed not to hire any consultants and strategists who dare to work for candidates challenging sitting Democratic members of Congress, effectively creating a blacklist for those firms who help "radicals" like Alexandria Ocasio-Cortez to beat out establishment centrists who are proving an increasingly hard sell, with voters tired of the status quo.
Also on rt.com
More Americans believe in 'Clinton collusion' after Mueller probe flop – poll
It will certainly help to have a backup plan in case cries of "Russia! Russia!" fail to sway voters in 2020. All signs point to American voters caring less about what's happening on the other side of the world, and more about crises closer to home. Even Trump's (presumed) exoneration at the hands of the Mueller report made few ripples in the real world, pushing his approval rating upward one lousy percentage point, and a Gallup poll shows less than 0.5 percent of voters believe the "situation with Russia" is the most important issue the country faces.
Their biggest concern? "The government/poor leadership." Democrats would be wise to pay attention if they want to win in 2020.
Helen Buyniski
Like this story? Share it with a friend!
You can share this story on social media: