Democrat congressman eats humble pie after mocking Trump… for visiting tornado victims
Published time: 9 Mar, 2019 16:46
Edited time: 11 Mar, 2019 11:45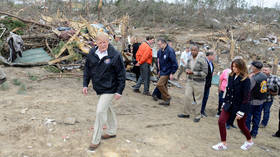 California Congressman Ted Lieu – one of President Trump's most vocal opponents – was forced to own up and apologize after accidentally slating Trump for taking a trip to Alabama to visit tornado victims.
Trump departed Washington on Friday for Alabama, where 23 people were killed in a deadly tornado last Sunday. Lieu, assuming Trump was attempting to drum up support for a border wall in Alabama – which does not border Mexico – pounced on the POTUS.
"WE ARE IN THE THIRD WEEK OF THE NATIONAL EMERGENCY!" Lieu proclaimed. "Is this why @realDonaldTrump is going to Alabama, because we need to build a wall along Alabama's southern border? Oh wait, I just looked at the map…"
Whether Trump could be accused of playing politics with disaster relief – promising "A Plus treatment" to red Alabama, after castigating officials in blue California following deadly wildfires last year – is another discussion, but Lieu was torn apart on Twitter for his apparent obliviousness to the devastation.
Lieu eventually concluded, "based on Twitter comments" that his tweet was inappropriate, and deleted it.
The California representative then went back to his favorite pastimes: calling for Trump's indictment, tweeting shade at the NRA, and calling Trump's cabinet "national security risks."
Think your friends would be interested? Share this story!