House panel widens Trump obstruction and abuse of power probe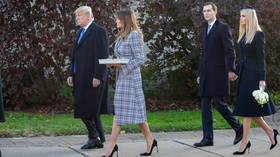 The House Judiciary Committee has launched a new probe into US President Donald Trump which will focus on whether or not his administration engaged in "obstruction of justice, corruption and abuses of power."
Committee chairman Rep. Jerrold Nadler said the panel is sending document requests to 81 people linked to Trump, as a way to "begin building the public record" for the sweeping probe.
(THREAD) This thread is a guided tour of the 81 PERSONS from whom the House Judiciary Committee is now seeking documents in contemplation of possible impeachment proceedings down the line. These names tell us much about where Congress is headed. I hope you'll read on and retweet. pic.twitter.com/wsErydjzKQ

— Seth Abramson (@SethAbramson) March 4, 2019
Democratic leaders have promised to investigate all issues thoroughly and to review special counsel Robert Mueller's report on alleged "collusion" between Trump and Russian officials during the 2016 campaign before taking any major action. It is likely, however, that many Democrats see the new investigation as a way to set the stage for impeaching Trump.
Nadler said he believes it is "very clear" that Trump obstructed justice and said the panel wants to review documents from the Justice Department as well as from the president's son Donald Trump Jr. and Trump Organization chief financial officer Allen Weisselberg. Former White House chief of staff John Kelly and former White House counsel Don McGahn will also likely be looked into as part of the probe.
Also on rt.com
5 stages of Russiagate grief: Dems and the media prepare for 'life without Mueller'
Nadler's letter asking for documents said the Trump administration faces "wide-ranging allegations of misconduct that strike at the heart of our constitutional order." The letter requested that the documents be provided by March 18 or potential subpoenas will be issued.
The probe comes as Mueller is expected to wrap up the long-running investigation into Trump's alleged Russia ties, likely without finding any evidence of collusion — an outcome which would go against a narrative which has been promoted by Democrats and the media for two years.
After two years of peddling collusion & venerating Mueller's probe, Nadler now says that if Mueller's probe doesn't find collusion, "we can agree to disagree," and that "this investigation goes far beyond collusion." This isn't moving the goalposts, it's moving the arena: https://t.co/XjHvKPB8jg

— Aaron Maté (@aaronjmate) March 3, 2019
Nadler said the committee probe would potentially go beyond the Mueller probe, however, prompting accusations from Republicans that the new investigation is just a desperate attempt by Democrats to figure out a new way to impeach Trump.
Ohio Rep. Jim Jordan said the new investigation would amount to a "Kangaroo court" while Georgia Rep Doug Collins, the top Republican on the committee, said that Nadler had "recklessly prejudged" the president for obstruction of justice, while admitting that he did not yet have facts to back it up.
Speaking to ABC's This Week, Nadler claimed the probe is not an impeachment inquiry, saying that before you impeach someone, "you have to persuade the American public that it ought to happen." The committee does not "have the evidence all sorted out" to start an impeachment process, he said.
The latest document requests mean investigations into Trump look set to continue for the foreseeable future, even if the Mueller probe does not turn up evidence of collusion, as Democrats expected it would. Trump has repeatedly denounced the Mueller investigation as a "witch hunt." On Sunday, he accused "crazed" Democrats of "Presidential Harassment," in a tweet.
Commenting on the requests, the White House said it would "review" the letter "and respond at the appropriate time."
Presidential Harassment by "crazed" Democrats at the highest level in the history of our Country. Likewise, the most vicious and corrupt Mainstream Media that any president has ever had to endure - Yet the most successful first two years for any

— Donald J. Trump (@realDonaldTrump) March 4, 2019
Subscribe to RT newsletter to get stories the mainstream media won't tell you.