CNN's Jim Acosta tweets vital news that Trump 'put on 4 pounds'... and gets savaged in replies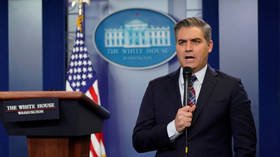 CNN's chief White House correspondent Jim Acosta tweeted some crucial information about US President Donald Trump's health on Thursday: that he has put on a whopping four pounds since his last checkup.
Acosta, who is known for his antagonistic stances toward Trump on both Twitter and in person, tweeted a picture of a recent letter signed by Trump's physician confirming that he is in "very good health overall."
Acosta quickly zeroed in on the bit about Trump's weight, however, noticing that it now stands at 243 pounds — up four since the last report from his doctor. Ever the intrepid reporter, Acosta shared the news with his Twitter followers... and was promptly eviscerated in the ensuing comments.
"...and you have lost twenty IQ points," one tweeter quipped, while another joked that the revelation was clearly "breaking news!" from CNN.
Acosta was sarcastically praised for his "hard hitting" and "Pulitzer worthy" journalism, and thanked for his "service" to the nation.
Another tweeter told Acosta that Trump had probably put on some weight since he "eats your lunch on a daily basis."
Some were not bothered by Acosta's tweet, however, and took the opportunity to express their own skepticism about Trump's weight and height, suggesting the numbers on the doctor's letter are not quite right.
Perhaps coincidentally, on Friday, the day after Acosta's tweet about his weight gain, Trump got into yet another verbal tussle with the reporter during a press conference on border security, saying he had an "agenda" and was working for "CNN, fake news."
Think your friends would be interested? Share this story!
You can share this story on social media: