Trump will declare national emergency as he signs watered-down wall funding bill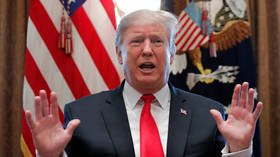 President Donald Trump will sign a spending bill that denies him funding for a border wall, but averts another government shutdown. Trump will also declare a national emergency, allowing him to bypass Congress and build the wall.
White House Press Secretary Sarah Sanders said on Thursday that Trump will sign the bill, but "will also take other executive action - including a national emergency - to stop the national security and humanitarian crisis at the border."
The bill allocates just $1.3 billion for a barrier along the US-Mexico border – a drastically lower amount than originally requested by the president. It also explicitly prohibits a concrete wall, and includes a number of concessions to Democrats, such as amnesty for illegal immigrants in the US with unaccompanied minors, a ban on wall construction in several national parks, and no funding for hiring more Immigration and Customs Enforcement (ICE) agents.
Ahead of the signing, many of Trump's supporters rubbished the deal, urging the President not to sign it.
The emergency declaration, however, allows Trump to divert funds from other parts of the government to fund the wall without Congressional approval. Trump hinted on Tuesday that he already has $23 billion in funding lined up "from other sources."
Speaking to reporters on Thursday, House Speaker Nancy Pelosi said that declaring a national emergency would set a dangerous precedent. "Republicans should have some dismay about the door they are opening, the threshold they are crossing," she said, adding that Democrats may meet the declaration with legal challenges.
An executive order may be overturned in Congress, but to do so would take two-thirds majorities in the House of Representatives and the Senate, something the Democrats lack. Unless Pelosi and Senate Minority Leader Chuck Schumer can convince enough Republicans to cross the aisle, the courts may be the only recourse available to the Democrats.
"We're very prepared" for legal challenges, Press Secretary Sanders told reporters, adding that "there shouldn't be" any. "The president's doing his job. Congress should do theirs."
Also on rt.com
'Bad' border deal welcomed by 'Swamp', but Trump seems unconcerned
The final text of the nearly 1,200 page spending bill was released on Wednesday evening, leaving lawmakers less than 24 hours to read its contents, let alone debate and amend it.
Failure to sign the bill would see another government shutdown begin on Friday, something that lawmakers on both sides are keen to avoid. The last partial shutdown, which ended on January 25, cost the US economy somewhere between $6 and $11 billion, and saw Trump's approval rating drop from 48 to 43 percent.
Think your friends would be interested? Share this story!
You can share this story on social media: