'Not looking for a fair fight': Florida school hires veterans to 'put down' school shootings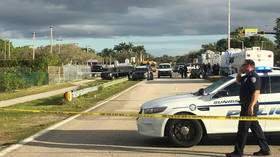 A Florida school has responded to the threat of school shootings by hiring two former combat veterans to patrol the halls with 17-inch barrel semiautomatic rifles and handguns, making it the first school to do so.
"If someone walks onto this campus, they're going to be shot and killed," Manatee School for the Arts principal Bill Jones told the Bradenton Herald. "We're not going to talk with them. We're not going to negotiate. We are going to put them down, as quickly as possible."
Jones explained that the school chose combat veterans as guards because he doesn't want an incident on the grounds to be the first time they've experienced being under fire.
"We're not looking for a fair fight," he added. "We're looking at an overwhelming advantage."
The school was responding to a new law introduced in response to the mass shooting at Marjory Stoneman Douglas High School last year in which 17 students were killed. Florida schools must now have a school safety officer or school guardian which is a member of staff trained to counter attacks.
One of the veterans has 15 years infantry experience and is already working at the school, while a second veteran is currently being trained and will start later this month. The guards were trained by Manatee County Sheriff's Department.
The school is also increasing the height of its fence by two feet.
Think your friends would be interested? Share this story!