'The real Donald': Twitter loses it over photoshopped Trump (IMAGES)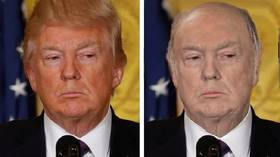 A striking photoshopped picture of Donald Trump shows the US president without his signature orange-hued tan and infamous comb-over hairstyle to show what the head of state would look like 'au naturale'.
"I guess this is what Donald would look like if he was a normal man,"wrote Twitter user 'Stone Cold', who actually took the image from New Zealand-based photographer Jordan Rivers.
Rivers had posted the image to Facebook, claiming he changed the president's appearance by using the skin color around his eyes as reference for The Donald's natural skin tone, and removing his beloved "comb over and hair dye."
The stark contrast of the side-by-side images sparked an incredible response on both Facebook and Twitter. The social media posts amassed more than 100,000 'likes' and thousands of comments, varying in nature presumably depending upon the author's political allegiance.
Holy crap people get offended when you don't worship their president. I posted that Trump edit on facebook and within an hour have almost 1000 angry trump supporters messaging me all kinds of horrible shit. Relax fam. Damn. It's just a silly photo.

— Jordan Rivers (@JordanRivers_NZ) February 7, 2019
Comparisons ranged from Kevin's uncle in the movie 'Home Alone' and Old Man Potter from 'It's A Wonderful Life'.
Definite Old Man Potter from It's a Wonderful Life vibe.

— Mikel Jollett (@Mikel_Jollett) February 10, 2019
It's not beautiful, but at least he doesn't look like a game show host anymore.

— Pleasantly Pink (@ReginaRed4) February 9, 2019
Somehow, the guy on the right seems more trustworthy. How weird is that?

— Mueller, She Wrote Podcast (@MuellerSheWrote) February 10, 2019
Like this story? Share it with a friend!
You can share this story on social media: